Top Singles 2017 smashes record, raising nearly $93,000 for charity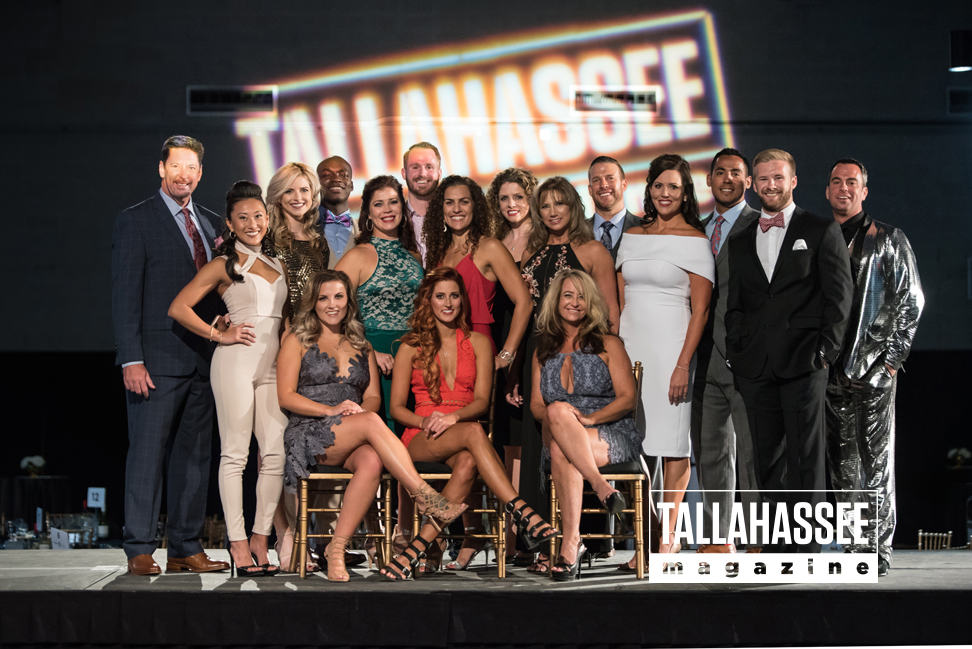 Tallahassee Magazine's "Top Singles 2017" raised nearly $93,000 for 17 local charities, thanks to the efforts of participants, generous donations by sponsors and an enthusiastic black-tie crowd of nearly 1,000 ticket-holders and auction bidders who gathered Saturday at the Donald L. Tucker Civic Center.
The preliminary total was $92,353 – more than $5,000 more than last year.
Dressed to the nines by local stylists and boutiques, the 2017 top singles danced, strutted, flirted and posed on the runway, as elaborate vacation packages and other prizes were live-auctioned. Each single's selected charity received the proceeds of the top bid made during his or her runway appearance.
The top 17 for '17 were: Sue Ault, Alex Beltrami, Donovan Brown, Jessica Fowler, Allyce Heflin, Nena Hester, Hsiang Jones, Todd Kuntz, Harold Lyons III, Niki McKinnell, Krysta Michael, Kathryn Palmer, Colette Podgorski, Kevin Priest, Ely Rosario, Stephen Taylor and Jamie Van Pelt.
Their glamorous outfits, makeup and hairstyles were provided by Elle Market, Dillard's, The Gem Collection and Fuel Salon + Store.
Kevin Priest, president and CEO of Capital City Youth Services, said his turn on the runway forced him to get out of his comfort zone — and he very much liked it.
"I loved the outfit. It was a nice look. As for the dancing, I just wanted to have fun with it and threw caution to the wind," said Priest, whose day job involves helping at-risk youth guard against homelessness, poverty and crime. "I had been involved way before now … supporting the network. This event gives good visibility to a lot of charities in our community."
The revered Tallahassee charities benefiting from the event are: American Cancer Society, American Heart Association, Big Bend Gives Back, Capital City Youth Services, Children's Center at TMH, City Walk Urban Mission, Epilepsy Association of the Big Bend, Girls2Divas, Grayton's Guardians – Cystic Fibrosis Foundation, Hang Tough Foundation, Lee's Place, Leon County Humane Society, Mac Crutchfield Foundation, Mother's Against Drunk Driving NWFL (MADD), PACE Center for Girls, Tallahassee Community Chorus, and Triple R Equine Rescue & Rehabilitation Ranch.
Bidding on the auction items was fast and furious, reaching its zenith with an astonishing top bid of $8,000 for a deluxe coastal vacation package including a resort getaway, a fishing trip and use of a 2018 BMW 4 Series Convertible.
Flirtatious smiles and energetic dancing by the singles fueled the bidders' enthusiasm, which was stoked by dazzling offerings from Capital Eurocars, ResortQuest by Wyndham Vacation Rentals, Sandestin Golf & Beach Resort, Elle Market, Dillard's, The Gem Collection, Fuel Salon + Store, and Whitewater Express/ Columbus Georgia Whitewater.
Audra Pittman, executive director of the Council on Culture and Arts (COCA), came breathtakingly close to busting the family budget on a luxurious beach getaway but dialed her impulse back to make a generous donation.
The Top Singles 2017 presenting sponsor was Tallahassee Plastic Surgery Clinic. Hotel Duval provided the venue for the pre-event photo shoots, and Proof Brewing Co. hosted the high-spirited after-party.
"Live in Tallahassee" and "A.M. Break" were media sponsors. "Preferred vendors," who supplied deeply discounted services, were: John Gandy Events, venue design; American Audio Visual, A/V presentations; iheart Radio, radio sponsor; GT Entertainment, DJ and music; and Tyler Denning, cocktail-hour music. Tallahassee Magazine orchestrated the spectacle.
The top singles also hosted fundraisers at restaurants, taprooms and other venues around town prior to Saturday's show to boost their charities' receipts. Ticket prices at the main event ranged from $65 for general admission to $1,075 for a table.