Top Single Profile: Zach Stipe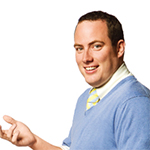 Photo by Scott Holstein
Blue and yellow striped tie: Cole Couture; Seiko Solar Alarm Chronograph with Leather Strap Watch: Gem Collection; Hair and Makeup: Fuel A Salon
Zach Stipe, 27
Charity: Mercy Ministries
Seminole spirit is not just Zach's hobby or passion; it's his career. As the agent of information for the FSU Athletics department, Zach gets to combine his innate love of sports with his expert skill in the communications realm.
Zach is the assistant director of sports information for Florida State University's Athletics Department. He is a member of the College Sports Information Directors of America organization and is affiliated with Big Brothers Big Sisters of the Big Bend.
From the nomination: "Zach has the outgoing personality of Ashton Kutcher with the grace and charm of Matthew McConaughey. He is one of those individuals who can light up a room and work the crowd, even if he doesn't know one individual in it; not one shy bone in his body! He has a great passion for sports and is an excellent writer; he can spin a bad team loss into something positive."
Zach's charity of choice is Mercy Ministries. Mercy Ministries' free-of-charge, voluntary, faith-based residential program serves young women from all socio-economic backgrounds, ages 13–28, who face a combination of life-controlling issues such as eating disorders, self-harm, drug and alcohol addictions, depression and unplanned pregnancy. Mercy also serves young women who have been physically and sexually abused, including victims of sex trafficking. Using proven methods, a holistic approach and professional counselors in a structured residential environment, Mercy has helped thousands of young women be restored to wholeness. Mercy's goal is to help these young women find freedom from their issues and empower them to serve in their communities as productive citizens.
For more information: www.mercyministries.org
---