Top Single Profile: Tony Bajoczky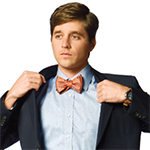 Photo by Scott Holstein
Printed bow tie: Cole Couture; Seiko Solar Alarm Chronograph with Leather Strap Watch: Gem Collection; Hair and Makeup: Fuel A Salon
Tony Bajoczky, 28
Charity: Tall Timbers Research Station
A Tallahassee native and Duke University/University of Florida Levin College of Law graduate, Tony recently moved back home to pursue a burgeoning legal career. He is an avid outdoorsman who enjoys hunting and fishing.
From the nomination: "Tony is a fiercely loyal friend. He will always be the quiet, observant person who knows how to crack a hilariously witty joke at just the right time."
Tony's charity of choice is Tall Timbers Research Station. Tall Timbers is a widely regarded information resource for the areas of fire ecology, game bird management, vertebrate ecology and forestry. The Research Station is recognized as the home of the study of fire ecology and is an advocate to protect the right to use prescribed fire for land management. And, the Land Conservancy is recognized as one of the nation's leading land trusts, as it has protected traditional land uses in North Florida and South Georgia by conserving more than 120,000 acres in this region through conservation easements.
For more information: www.talltimbers.org/welcome.html
---