Top Single Profile: Kyli Ringeman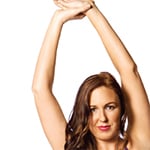 Photo by Scott Holstein
Electric blue bandage dress: Cole Couture; Raymond Hak Sterling Silver 8.50ct Round Amethyst Necklace: Gem Collection; Hair and Makeup: Fuel A Salon
Kyli Ringeman, 27
Charity: Children's Home Society/Tree House
Kyli has a zest for life that extends from her job with local boutique Cole Couture to her volunteer affiliations with the Junior League of Tallahassee and the Midtown Merchants Association. With a motto to "try anything at least once," Kyli has a passion for photography, traveling, cooking and her pooch, Marley.
Kyli is the retail manager and buyer for local boutique Cole Couture. A member of the Midtown Merchant's Association, Kyli pursues a wide array of hobbies in her free time, from working out to cooking. She is a member of the Junior League of Tallahassee.
From the nomination: "Kyli's giving heart, loyalty and free spirit make her one special lady! She has an infectious smile and inviting wanderlust with a passion for traveling, photographing all of the places she visits and dreaming about those that she will one day visit. She also loves cooking, food and her pup Marley. Kyli will try anything once, making her the fun girl to be around!"
Kyli's charity of choice is the Children's Home Society/Tree House. Since 1986, thousands of abused and neglected children in Tallahassee and the surrounding nine counties have found shelter, comfort and a sense of normalcy through a local charity — Tree House of Tallahassee, Inc. Though many operational costs of Tree House are sustained by partnerships with Children's Home Society of Florida and the Department of Children and Families, private donations and fundraisers organized by the board of the directors and volunteers are necessary to keep the charity functioning.
For more information: www.treehouseflorida.org
---