Top Single Profile: Jean Bates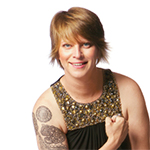 Photo by Scott Holstein
Black maxi dress with beaded top: Cole Couture; Rebecca Swarovski Crystal Wide Yellow Cuff: Gem Collection; Hair and Makeup: Fuel A Salon.
Jean Bates, 39
Charity: Animal Shelter Foundation
As the owner of a cupcake shop, Jean is well versed in what it takes to generate smiles. She's currently president of the Midtown Merchants Association and is a willing participant in any number of local events and charitable efforts. Jean has an enduring energy that continues to propel her to greater success.
Jean is the owner of Lucy & Leo's Cupcakery, located in midtown Tallahassee. She is president of the Midtown Merchant's Association and often donates hundreds of cupcakes monthly to various local charities. She has also participated in the SMART Ride event, in which she biked the 165 miles from Miami to Key West to raise money for AIDS foundations.
From the nomination: "Jean is a fantastic mother, loving, hilarious, generous and one hell of a dancer."
Jean's charity of choice is the Animal Shelter Foundation. The Animal Shelter Foundation (ASF) is a non-profit organization created by volunteers to support the animals in the care of the Tallahassee-Animal Service Center, more commonly known as the Animal Shelter at Tom Brown Park. The Shelter is an open admission facility, which means that every animal is accepted, and no animal is turned away. ASF provides resources to help more homeless animals find loving forever homes, supports community-wide spay/neuter efforts to help decrease unwanted animals that end up in the shelter and promotes kindness, respect and responsible pet ownership.
For more information: www.animalshelterfoundation.org
---