Top Single Profile: Heather Akers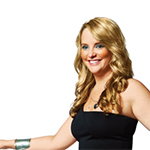 Photo by Scott Holstein
Black one-shoulder dress: Cole Couture; Maria Christina Sterling Silver Heart Pendant Necklace, Nancy Jones Sterling Silver Braided Cuff: Gem Collection; Hair and Makeup: Fuel A Salon
Heather Akers, 31
Charity: Dixon Camp Memorial Reef
A vivacious personality, Heather squeezes every possible drop of joy she can get out of life. She loves to travel and is fiercely loyal to her close-knit group of friends and family. A self-professed Tallahassee Lassie, she combines a fiery spirit with her Southern roots, making her the life of any party.
Heather is a native of Tallahassee and current works as a stylist with So Pure Salon and Spa. She recently worked with the American Cancer Society's Relay for Life and will soon be working with AVEDA for the Gulf Coast Restoration Network.
From the nomination: "Heather is not only beautiful on the outside but also on the inside. Her amazing personality, sincere love for her friends and brilliant comedic timing is why she's so special. Heather has many talents, but what is most attractive about her is she's a true Southern lady — a perfect Tallahassee Lassie looking for her very own Southern gentlemen!"
Heather's charity of choice is the Dixon Camp Memorial Reef.
For more information: www.facebook.com/DixonCampReef
---