Top Single Profile: Elizabeth Mack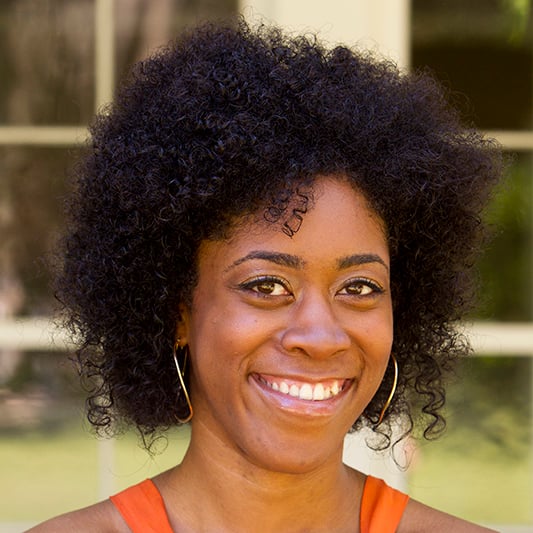 Elizabeth Mack, 25
Tallahassee Topics/Multimedia Reporter, Tallahassee Democrat
Charity: Big Bend Homeless Coalition
Scott Holstein
On Elizabeth: Sun Gaze burnt orange silk mini dress with a gathered waist tie. Her shoes are cognac straw wedges with breezy topknot details. Her jewelry includes 14-karat angled gold hoop earrings ($375) and a gold- over-bronze ring with crystals by Rebecca ($495).
Personal Haiku
Funky sassy fro
Reporting is my passion
I LOVE living LIFE
20 Questions
1. Beer, wine or champagne? Depends on what mood I'm in.
2. iPod question: Do you shuffle and take songs as they come, or stick with a playlist? I shuffle. Keeps things interesting.
3. What are the top five items on your bucket list?
– Skydive
– Backpack through Europe
– Be a UFC ring girl (for at least one fight)
– Write a book about my life
– To be determined
4.What three words best describe you? Eclectic, expressive and energetic (all starting with 'E's is merely a coincidence. LOL)
5. What's something interesting about you that a lot of people don't know? Unfortunately, I don't think there's any mystery left to me. I write a weekly column that really keeps me an open book.
6. What do you keep in the trunk of your car? Beach supplies (umbrella, beach bag, cooler) and old shopping bags.
7. What is a fear you'd like to overcome? I don't know anymore. My biggest fear for a long time was public speaking. But given what I do on the day to day, I'm pretty much over it.
8. What is your guilty pleasure? I don't think it would appropriate for me to share.
9. What was your best Halloween costume? My last year of college, I was a Playboy bunny, but it was classier than most costumes with the same theme. I was still sexy, while keeping my dignity intact.
10. What saying do you overuse? I have two, "Lil' bit," and "A-Mazing!"
11. On what occasion (if ever) do you lie? I believe honesty is the best policy, even if the truth hurts.
12. What is your current state of mind? Peaceful.
13. What do you value most in your friends? Their honesty. If you can't tell me when I'm a looking a hot mess or obviously making a big mistake, we have a problem.
14. What talent would you like to have? I'm pretty happy with the talents I already possess.
15. What is your most treasured possession? A baby picture of me and my older sister.
16. What is your greatest extravagance? Shopping (clothes, shoes, accessories, home decor… food). I do budget for this.
17. DJ or band at a wedding? I want both! I saw "Rachel Getting Married," and the reception in that movie was A-Mazing. They literally had it all. I want the same thing.
18. What is your favorite smartphone app? Pinterest. I dedicate at least four hours of my day to it.
19. What is the first thing that you notice about someone? The way they interact with other people. I guess I could sum it up by saying, body language.
20. If you could be a cartoon character, who would you be? That's a toughie. I had to take a poll on this one… My friends and co-workers say it's Black Widow. And, I don't necessarily disagree.