Top Single Profile: Doug Dolan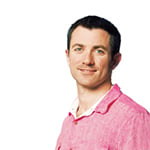 Photo by Scott Holstein
Longines Stainless Steel Automatic Black Heritage Legend Diver Watch: Gem Collection; Hair and Makeup: Fuel A Salon
Doug Dolan, 36
Charity: Juvenile Diabetes Research Foundation North Florida Chapter
By day, Doug is a skilled attorney with masterful skills in technique, research and legal knowledge. By night, he is a talented guitar player in the band The Flip Flop Boys. If it's not music or law, Doug might be found fishing, sipping on Irish whiskey or taking in some Seminole football.
Doug is a local attorney that doubles as a guitar player and vocalist in local musical outfit, The Flip Flop Boys. He is a member of the Florida Bar and is the alumnus advisor of the undergraduate chapter of Kappa Sigma. He is also a frequent donor to the Southeastern Community Blood Center.
From the nomination: "Doug is funny, kind, generous, and incredibly handsome. He loves to have a good time, and he's very laid back. Doug is hardworking when it comes to his job and is really good at what he does. He is an AMAZING guitar player and his band, The Flip Flop Boys, are widely known in the Tallahassee and North Florida area. He really is a perfect catch!"
Doug's charity of choice is the Juvenile Diabetes Research Foundation North Florida Chapter. The goal of the Juvenile Diabetes Research Foundation North Florida Chapter is to ensure that scientists have the continued funding they need in order to progress research to a cure for Type 1 diabetes and its complications and to ensure that every newly diagnosed child / family living with Type 1 has the resources they need to live a healthy, happy and controlled lifestyle. As a team of staff, volunteers, corporate / individual partners, physicians and families living with Type 1, the organization accomplishes its goals by communicating "gaps," looking for ways to fill these gaps and executing a well-laid plan for success.
For more information: www.jdrfnorthflorida.org
---