Top Single Profile: Daniel Sinor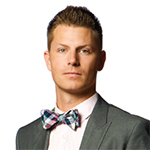 Photo by Scott Holstein
Plaid bow-tie: Cole Couture; Rolex 40mm Stainless Steel Oyster Milgauss Watch: Gem Collection; Hair and Makeup: Fuel A Salon
Daniel Sinor, 32
Charity: Society Foundation
A business warrior with a keen entrepreneurial sense, Daniel has tasted the fruits of success at an early age. The owner of a restaurant delivery outfit, Daniel understands the value of hard work and prides himself on staying grounded through close relationships with his family and friends.
Daniel is the owner of Doorstep Delivery, an online restaurant delivery service that is found in several cities around the state of Florida. A graduate of the University of Florida, Daniel is a member of the Gentlemen Society and Phi Delta Theta.
From the nomination: "Daniel is an entrepreneur who, at a very young age, has built a multi-million dollar business spanning several cities in Florida while remaining humble and grounded, always rooted by his commitment to friends and family."
Daniel's charity of choice is the Society Foundation.
---