Top Single Profile: Brian Bohm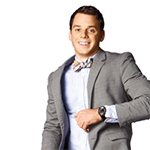 Photo by Scott Holstein
Plaid bow tie and neutral-toned Toms: Cole Couture; Longines Stainless Steel Automatic Black Heritage Legend Diver Watch: Gem Collection; Hair and Makeup: Fuel A Salon
Brian Bohm, 30
Charity: Boys and Girls Club of the Big Bend
A social butterfly with a talented legal mind, Brian has fought his way out of the image of the typical attorney. He be-bops around in Converse tennis shoes, drives a Jeep Wrangler and nurtures his inner artist when he's not busy prepping a case.
Brian is a local attorney and graduate of the Florida State University College of Law. He is a member of the Florida Bar and is affiliated with the Tallahassee Bar Young Lawyers Division. He is also a member of the 2012-2013 class of Knight Creative Communities Institute Community Catalysts.
From the nomination: "Brian is A GREAT GUY. Brian breaks the conventional mindset of "attorney" — you could easily see him drive up with his Jeep Wrangler top and doors off, hop out in his Converse and never mention a word about stressful work life. An added bonus, he is an amazing artist! I give him my highest nomination."
Brian's charity of choice is Boys and Girls Club of the Big Bend. The Boys & Girls Clubs of the Big Bend is a non-profit organization serving the needs of hundreds of children and teenagers in Leon and Gadsden counties after school and all day during the summer. Since its inception in January 1992, the group's mission has been "to inspire and enable all young people." The organization's five core areas of programming include: education and career development, character & leadership development, health & life skills, arts & cultural enrichment and sports, fitness & recreation.
For more information: www.bgcbb.org
---