Top Salons' Celebrate a Girls Night Out
Narcissus hosts shopping party for salons and models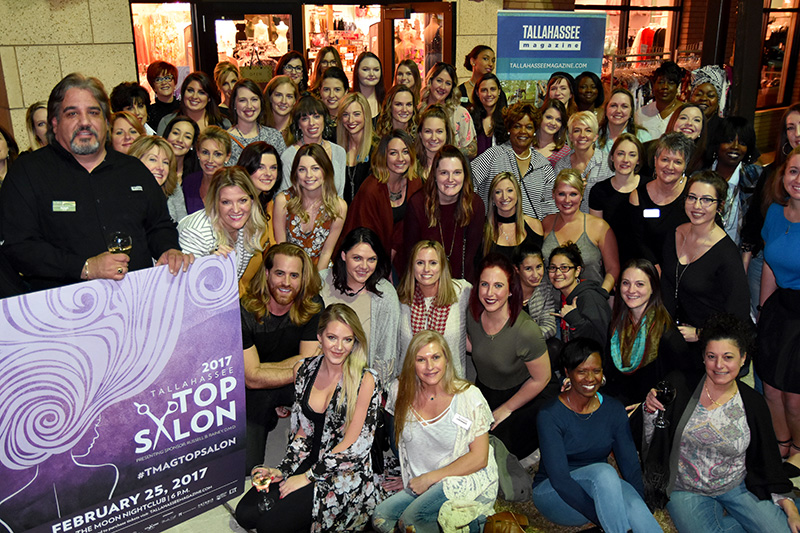 In much the same way that a new hairstyle can boost her mood, a new outfit works wonders for any woman's confidence.
On Jan. 12, representatives of the salons selected to participate in Tallahassee Magazine's 2017 Top Salon event, along with their models, gathered for a girl's night out at Narcissus.
Stylists mingled while feasting from a spread of gourmet cheeses, fruit and, of course, wine. Models scoured the racks of Narcissus for inspiration for their runway looks. Many "oohed and ahed" over sparkling dresses and on-trend outfits.
For some, it was their first time visiting with the helpful team at Narcissus. All participants enjoyed a pleasurable experience learning tips and tricks for styling that is figure flattering and runway ready. The models became excited about what Narcissus had up their sleeve for picking the perfect outfit.
Each model scheduled an appointment with Narcissus consultant Zoee Rosser, who will help them shop, fit them perfectly and furnish them with advice that will give them that extra "wow factor" during the big reveal.
"Once they put on the dress, it's a total transformation, they just light up," said Rosser.
Towards the end of the night, everyone gathered for a group photo. In a little over a month, 12 of those smiling faces will beam a little brighter as they take the stage with a brand new look all thanks to the best salons in Tallahassee and event sponsors Dr. Russell B. Rainey, D.M.D., Tallahassee Plastic Surgery Clinic, Narcissus, Sweat Therapy Fitness, Fifth & Thomas, Hattori Hanzo Shears, Network of Young Professionals, Marsha Doll Models, Live In Tallahassee and AM Break with Ann & Audra.
Make your plans now to attend Tallahassee Magazine's Top Salon event on Saturday, Feb. 25, from 6-10 p.m. at The Moon nightclub where 12 salons will showcase their talent in pursuit of the votes of attendees and judges. It all culminates in the announcement of Fan Favorite and Judge's Pick honorees and the 2017 Top Salon of Tallahassee. Buy your tickets here for a night of talent, creativity and inspiration.