TMH Golden Gala
Months of preparation lead up to signature event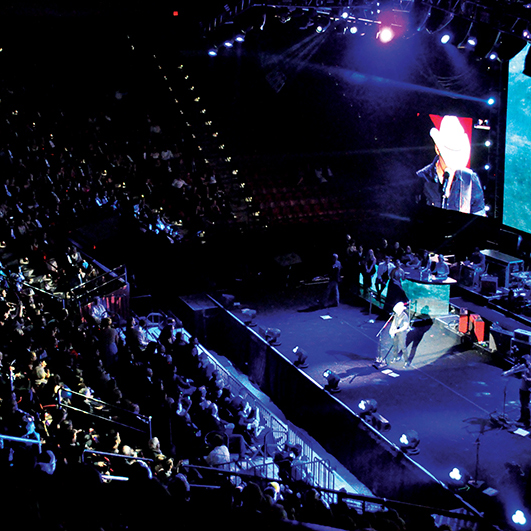 Dressed to the nines, the 1,500 people who attended the Tallahassee Memorial HealthCare (TMH) Foundation's 34th annual Golden Gala encountered a venue that was also fittingly dressed, festooned with white roses and lilies. Animated conversation was heard, champagne bubbled and lights twinkled; the stage was set for an occasion that would be at once formal, festive and, most importantly, formidable in terms of its impact on the community. And, behind the glitz and glam was a dedicated team committed to delivering cocktails, canapés and world-class entertainment as reflections of TMH's gratitude for its supporters.
Highlighted by a performance by country megastar Brad Paisley, the Golden Gala, held April 12, 2017, at the Donald L. Tucker Civic Center, proved to be an energizing — and immaculate — one for all involved. Nothing had been left to chance by the many volunteers, colleagues, vendors and others, all of whom made invaluable contributions to ensuring that the gala was an unqualified success.
For Mickey Moore, the 34th annual Golden Gala was the first he experienced as the TMH Foundation's chief advancement officer and president.
"The Tallahassee Memorial Foundation is focused on connecting and participating with the community and there is no greater example of this commitment than the Golden Gala," Moore said. "It truly takes a team to inspire an unforgettable evening. From securing top-tier talent and curating a culinary experience to handcrafting floral displays and steaming linen, countless hours go into creating the desired look and feel and turning that vision into reality."
Nine months of planning are devoted to only a few hours of festivities, but the ways in which the Golden Gala enhances community health are widespread.
"As the lights went on for Brad Paisley, a light also was shined on health in our community," Moore said. "Families across the Big Bend region reap the benefits of an event so many come together for. Words cannot express my gratitude for the foundation staff, hospital colleagues and community volunteers for bringing this incredible night to life."
Through the TMH Foundation, individuals, businesses and organizations combine to equip the hospital with new medical technology, expand patient- and family-centered care and provide for the continuing education of TMH's medical team — all in the interest of extending exceptional healthcare to the region.
As the 35th Golden Gala approaches, momentum is already building toward another wildly successful event. And to a man and a woman, every gala volunteer would agree that the time and effort invested in the event translates to a vastly important investment in the community.