Three Can't-Miss Holiday Traditions
Come visit Tallahassee's one-stop holiday destination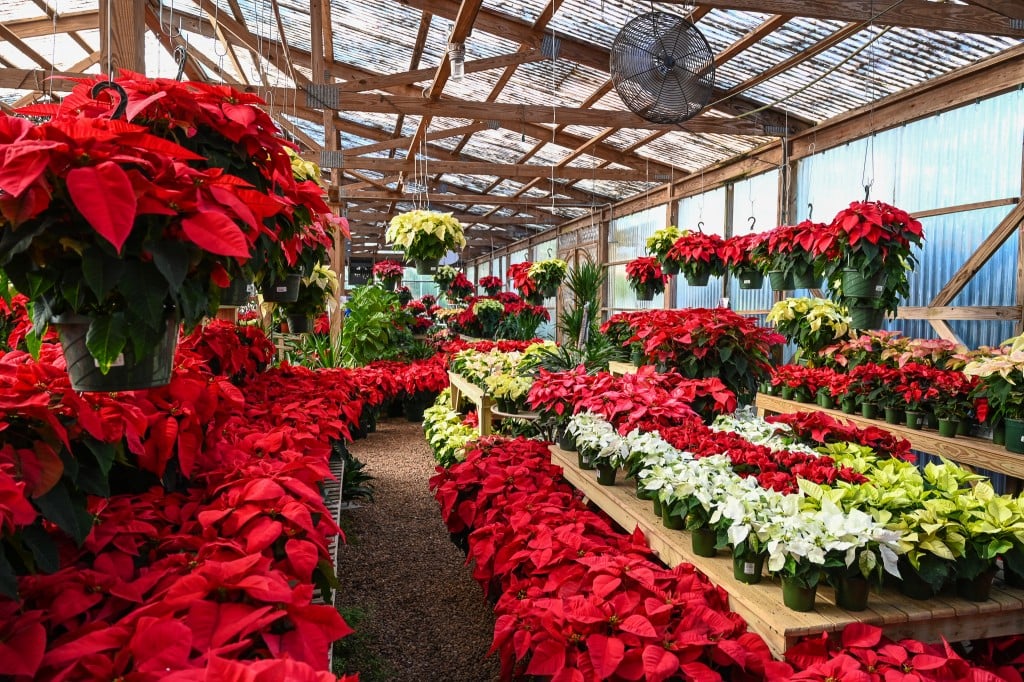 We love this Tallahassee community we've called home for over 80 years, and nothing feels quite as magical as home during the holidays.
At Tallahassee Nurseries, you'll find everything you need for the holiday season, including premier Fraser fir Christmas trees, traditional and novelty poinsettias, fresh-cut florals and gifts for everyone on your shopping list. Come visit Tallahassee's one-stop holiday destination, and begin, or continue, your holiday traditions with us.
O Christmas Tree(s)
We pride ourselves on providing the highest quality and selection of products year-round — and the holiday season is no different. Tallahassee Nurseries is Tallahassee's Christmas Tree Headquarters. We have an exclusive partnership with one of North Carolina's premier Fraser fir Christmas tree farms, allowing us to provide fresh, high-quality Fraser firs so you have a wide selection to choose from, ensuring you find the perfect one to take home.
Bring the whole family to stroll through our park-like setting, and enjoy the fresh scent of Fraser firs while finding your perfect Christmas tree — family bonding time guaranteed.
Poinsettias in The (Green)house
Poinsettias are a holiday staple that have graced us for decades. Whether you like the traditional poinsettia with bright red petals or the novelty varieties showcasing pinks, whites and other hues, we have stunning, high-quality poinsettias in a myriad of varieties and colors awaiting you in the largest greenhouse in town. Start a tradition of giving with one of the holiday's most beloved plant gifts. Pair with a gift card as a thoughtful gift for a co-worker or play a game of gift and dash by placing your poinsettia of choice on the doorstep of a neighbor to spread holiday cheer throughout our community.
Explore the Nursery in a Whole New Light
Enjoy acres of flowers and plants in the glow of holiday lighting — giving our beautiful property another level of sparkle that pairs perfectly with the magic of the holiday season. Start a date-night tradition during our after dark shopping hours by stopping in our gift cottage for a beverage and gift inspiration before entering the romantically lit grounds to enjoy the fresh, aromatic air and the beautiful sight of a sea of Christmas trees and stunning winter garden color that are sure to make your spirits bright.
No matter your tradition, we look forward to seeing you this holiday season!
Tallahassee Nurseries
2911 Thomasville Road | (850) 385-2162 | tallahasseenurseries.com