Thompson/Miller Wedding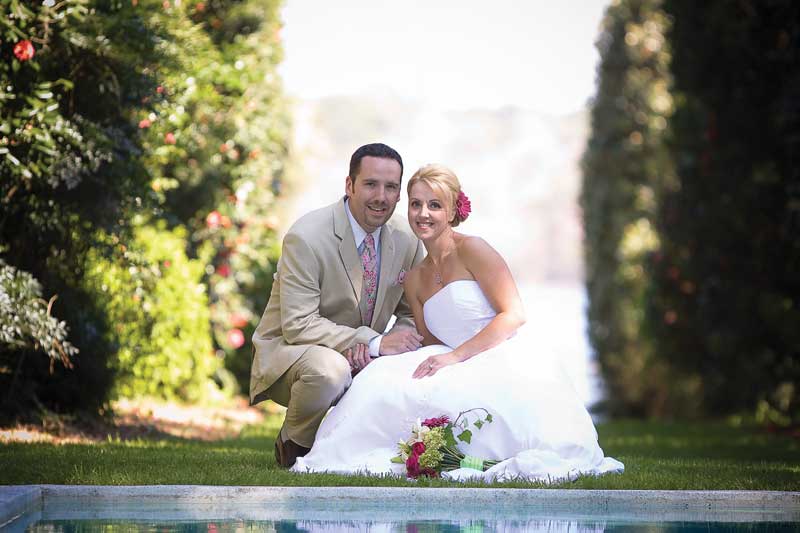 Angela Thompson and James MillerPersonalizing Their Perfect Garden WeddingBy Lilly RockwellClick for slideshow
James Miller knew soon after meeting Angela Thompson that he wanted to marry her. The couple met in Orlando and moved to Tallahassee together four years ago.
After Miller proposed in August 2008, at a beachside retreat in the midst of Tropical Storm Fay, the couple's first move was to start socking away money. They wanted to maintain a strict wedding budget of $15,000 without relying on credit cards. The Millers (Angela took his name) looked for ways to cut costs without sacrificing elegance.
"I always dreamed of getting married in a garden," Angela Miller says, so the couple chose Maclay Gardens for their wedding and reception on March 20, 2010. Their 120 guests were seated outside near the park's reflecting pond, and the couple wrote their own vows.
Angela says planning the wedding together helped them understand their priorities as a couple.
"We discovered that music was really important to us," she says.
They hired a string quartet to play during the ceremony, and singer Boyd Mangum and a disc jockey for the reception. While they spent more than expected on music, the couple found ways to save money elsewhere.
Instead of hiring a videographer, a relative filmed the ceremony and reception. Angela didn't order a big, personalized wedding cake, instead favoring bite-size desserts for guests. When they day arrived, the weather was perfect, and James had tears in his eyes when his bride walked down the aisle.
"You can have a beautiful, elegant wedding on a budget," Angela says.
Photography Whitney Fletcher Photography
Wedding Gown David's Bridal
Bridesmaids' Dresses David's Bridal
Groom and Groomsmen's Outfits Calvin Klein linen suits
Invitations My Favorite Things
Music/Entertainment Karl Barton and a string quartet (ceremony), Boyd Mangum acoustic guitar (cocktail hour)
Catering BlueWater Catering
Bar Service Bill McCormick
Flowers Simply the Best
Cakes Frosting by Kelly Ramos
Wedding/Engagement Rings Gem Collection (Richard Humbert)
Hair/Makeup/Spa Services Ardan's Salon & Spa and Coco Nails in SouthWood
Reception Venue Alfred B. Maclay Gardens
Wedding Planner Carolyn Langston, Fairytale Weddings
Party Favors (Koozies) Specialty SportsWear
Rentals In Tents Events