These Young Adults Keep Classical Music Classic
Suds and Sonatas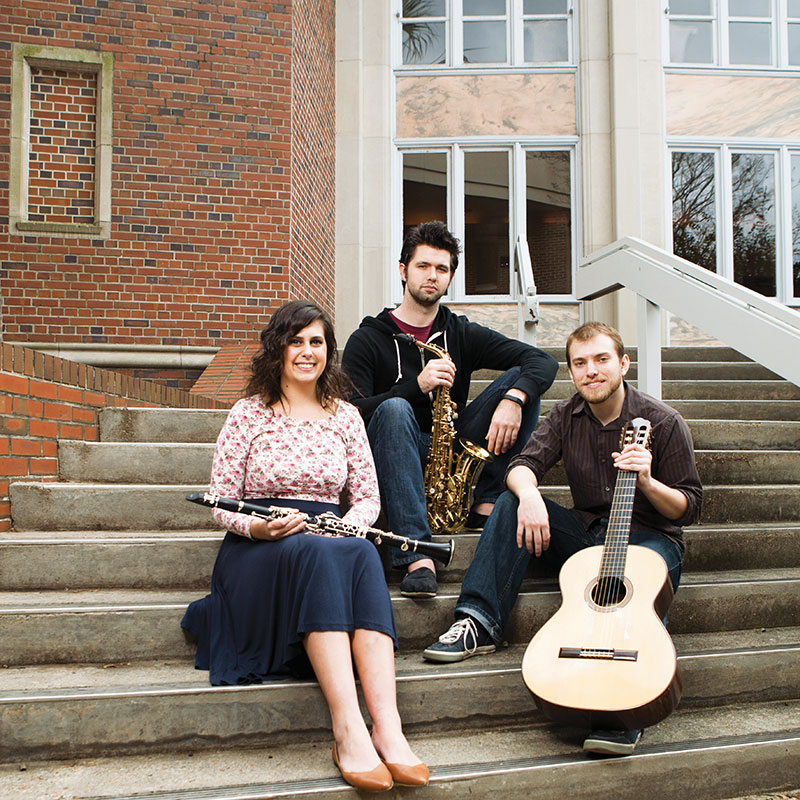 For the past eight months, Waterworks has been a hotbed of radical thinking — but not of the anarchist sort. Instead, Classical Revolution seeks to take chamber music out of the concert hall and into non-traditional settings such as the Midtown bar.
Check out the behind-the-scenes video from the photo shoot:
Classical Revolution started in San Francisco in 2006 and has grown to 30 chapters in the United States, Canada and Europe. When doctoral candidate Larkin Sanders and other students from Florida State University's College of Music decided it was time to create a "revolution" in Tallahassee, they found a willing collaborator in Waterworks owner Don Quarello, who's known for his creative take on entertainment. (Anybody up for Cat Night Wednesday or Science Salon?)
The classical "revolutionaries" who started the local chapter include Larkin Sanders, Cole Belt and Ben Lougheed.
Matt Burke
"It's kinda weird," Sanders said. "When you say you're going to play classical music in a bar, people are like, 'Whaat?' But I think they come and realize it's a lot of fun and keep coming back."
Appearing at least once a month since September, the night's musical entertainment usually features different groupings of FSU students taking the stage. In February's performance, the offerings included everything from solo saxophone and clarinet pieces to a four-man jazz combo — even a duet penned by a student composer featuring the unlikely pairing of steel pan drum and clarinet. March's offering was a more classical music-inspired "Spring Serenade."
While patrons might be surprised by an etude accompanying their Manhattan, Classical Revolution is also an out-of-the-ordinary experience for the musicians, who normally play in recitals where the audience is quiet and focused on the music. In the bar setting, "people talk and laugh … and the more people there are, the louder it gets," Sanders said.
Classical Revolution is usually scheduled from 8 to 10 p.m. on the last Tuesday of every month at Waterworks. For more information, go to classicalrevolution.org or visit the local group's Facebook page (Classical Revolution Tallahassee).