The Vivace Experience: State-of-the Art Microneedling
The FDA-cleared radio frequency device is now available in Tallahassee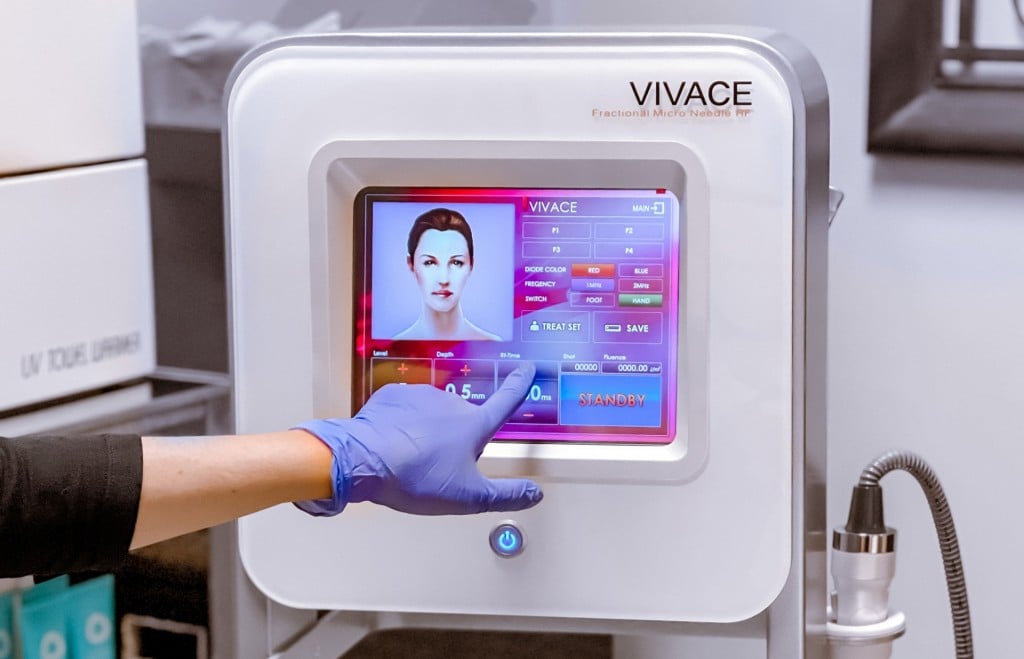 Aqua Medical Spa/Dermatology Specialists of Florida is pleased to announce the addition of The Vivace Experience for patients interested in building collagen and elastin in their face, neck and body through a virtually pain-free, minimally invasive treatment. The Vivace Experience combines a state-of-the-art, best-in-class Microneedling Radio Frequency (RF) device with powerful treatment serums designed for optimal patient results. One of the key benefits of the device is the radio frequency that provides skin tightening and enhances treatment outcomes.
What sets The Vivace apart from other devices are a number of design decisions made in the best interest of patient results and patient comfort. Additionally The Vivace is FDA cleared, which is critically important in today's increasingly stringent regulatory climate and in the best interest of patient safety and reliability.
What is MicroNeedling?
Microneedling (also known as collagen induction therapy) is a minimally invasive treatment to rejuvenate the skin. A device with fine needles creates tiny punctures in the top layer of the skin that triggers the body to create new collagen and elastin. Results can include improved texture and firmness, as well as reduction in scars, pore size and stretch marks. Microneedling is a safe, chemical-free treatment to trigger new collagen. When combined with radio frequency, it becomes the newest revolution in contouring and tightening for the face, neck and body.
What is RF?
Radio frequency (RF) provides heat that stimulates collagen production, which has been found to lead to tighter, younger-looking skin. Combined with state-of-the-art microneedling, patients have experienced optimal results.
What are the benefits?
The Vivace Experience provides the most dramatic results with virtually no pain and no downtime.
What does it feel like?
With a numbed face, the treatment feels like little more than light pressure to the face, with the occasional, light-sparking feeling.
Does it hurt?
Our personalized compounded numbing cream, the best numbing cream available, is applied 30 to 45 minutes prior to the treatment to ensure a comfortable patient experience throughout the treatment. Many testimonials from patients say they found the treatment to be in a range of comfortable to virtually pain-free. The Vivace™ was designed with patient comfort in mind.
How many treatments do I need?
Many physicians find three treatments, spaced four to six weeks apart, provide the experience patients are looking for. Single treatment protocols are available depending on experience desired.
How long does it take?
The actual treatment takes about 45 minutes, with an additional 30 to 45 minutes needed for numbing.
What kind of skin does it work on?
Most skin colors can be treated, including tanned skin and dark skin.
How long does the result last?
Everyone is different, but the collagen and elastin you make is your own and continues accelerated production over the next six months as results improve over time.
How do I find out more?
If you are ready to take advantage of this cutting-edge technology that maximizes aesthetic results while optimizing your comfort, call (850) 254-0244 to schedule an appointment.