The Edison
A place for all occasions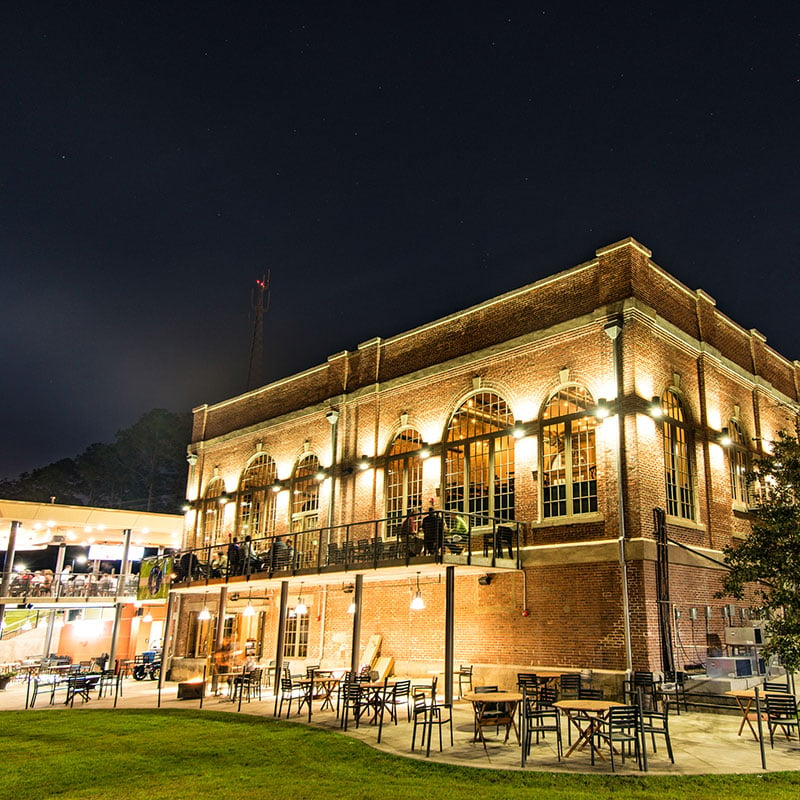 Sponsored by The Edison
Almost a century ago, the old electric building located in what is now known as Cascades Park was the source of energy for our beautiful community. Today, after its transformation into The Edison Restaurant, the building serves as a bright and energetic source for our Tallahassee neighbors and visitors to gather, eat and make memories.
The Edison is brought to you by a passionate group of local investors who are committed to our great city and its future. Every day our dedicated and hardworking staff made up of this city's finest residents, students, sons, daughters, husbands and wives strive to bring you an awesome experience unlike anything else in Tallahassee
The Edison is packed with history, surprises and all manner of unique places to meet, celebrate and have fun. Our open dining room with industrial designs and sweeping high ceilings is one-of-a-kind. The restaurant and its park side patios offer regional cuisine sourced from vendors all over our great state as we strive to celebrate the best of Florida. Our private spaces include an intimate wine room featuring a wall of wine bottles; and the Chef's table, an intimate nook in The Edison's kitchen, offering an area for your special celebrations or a chance to look behind the curtain and interact with the restaurant's staff while watching your dinner being prepared.
For larger events, walk upstairs to Innovation Hall, a banquet room like none other in Tallahassee. The room features enormous arched windows with breathtaking views of Cascades Park. The high ceilings, exposed brick and strings of lights make this the perfect room for a wedding, rehearsal dinner or corporate event. During the holiday season, The Edison's décor, including a large Christmas tree, makes Innovation Hall the perfect venue.
Outside, The Edison's covered deck has great views and an incredible circular bar, but our favorite is the beer garden. The beer garden is an intimate space featuring a spiral stairway that was once located inside the building. Today it serves as a piece of art to remind us of prior elements of this beautiful building. Finally, the beer garden opens onto a large patio and grassy area that has hosted barbecues and weddings alike. It is a favorite location to sip a cup of coffee or to enjoy a grand celebration!
With an indoor-outdoor atmosphere that welcomes all residents and visitors, dedicated service and a menu with great food and drinks, The Edison is the perfect choice for your next dinner, event or business meeting.
We would be privileged if you, your family and friends would allow us the opportunity to seat you at The Edison Restaurant. I invite you to take in Cascades' vibrant scene with a fresh cup of coffee, a relaxing glass of wine or a delicious breakfast, lunch or dinner.
– The Edison Restaurant
---
Meet Mike Xifaras
Investor and Managing Partner of The Edison Restaurant
"Like many of our neighbors, my career has taken my wife, Rachel, and I all over the South, but since coming here three years ago our family has grown to love Tallahassee and considers it home. My children attend Leon County schools, where my wife serves on the school PTO. Every day, I have the pleasure of managing a dedicated and hardworking staff made up of this city's finest residents, students, sons, daughters, husbands and wives. This restaurant is an important one in our community."
The Edison Restaurant // (850) 765-9771 // 470 Suwannee St. // edisontally.com // Sun–Sat 11 a.m.–10 p.m., Sun 10 a.m.–9 p.m.