Tallahassee's Diverse Music Scene Rings in the Holiday Spirit
Tallahassee's diverse music scene kindles the holiday spirit.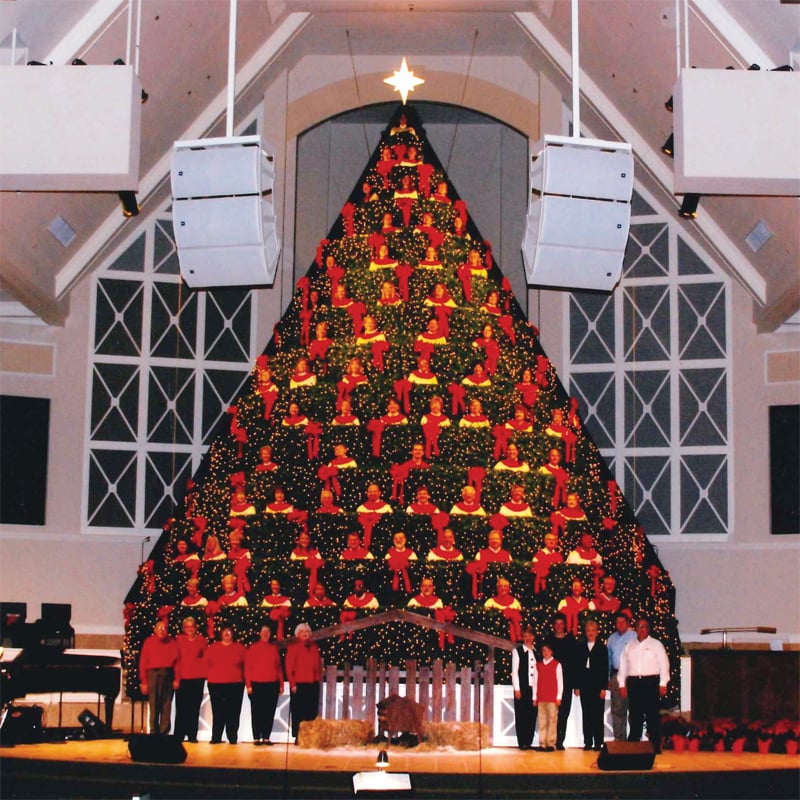 Music and singing have always been integral parts of the Christmas holiday season, and Tallahassee's local choirs and musical groups add a joyful noise to this beloved time of year.
The plethora of options in Tallahassee gives audiences a chance to find their own flavor of entertainment. For those who prefer the musical ornaments of a classic Christmas season, look no further than Bradfordville Baptist Church's Singing Christmas tree tradition. Others who are looking to go to well-established events with musical audience participation should consider the Tallahassee Music Guild. The 50-year-old group of music lovers is celebrating their 26th Messiah Sing-Along this year. They will perform excerpts from Handel's famous "Messiah," according to Guild President Peggy Snapp.
"Regardless of race, background or creed, the Messiah Sing-Along brings the community together. It's about spontaneity and having the audience sing with the group; not even the singers practice together before they go on stage," Snapp said.
The Tallahassee Music Guild also makes a point to help their fellow musicians in the community. In keeping with the spirit of giving, the Guild awarded 25 scholarships to rising musicians from Florida State University and Florida A&M University last year on the Sing-Along's 25th anniversary.
"We spend every penny on scholarships," Snapp said. "The Sing-Along will also be followed by a reception and other Christmas songs (here) at Faith Presbyterian Church, which everyone is invited to attend."
Florida State University has successfully created its own following during the winter months. FSU's PRISM concert includes an array of music groups from around campus. Named in honor — and in pursuit of — how sounds mirror light's reflection through a glass pyramid, 30 ensembles play back and forth during the concert. Each provides music from their repertoire to make an unparalleled symphonic sound. It's a fun, nonstop format: a brass ensemble might suddenly appear in a balcony while the stage could be taken over by tuba players.
The concert takes place in the Ruby Diamond Concert Hall, the artistic heart of FSU's campus. The acoustics allow the sound to reverberate from various ensembles such as Jazz Percussion, Wind Orchestra and others. The Marching Chiefs delivers the grand finale, making this concert a must for any Seminole fan or alumnus.
If the sounds of the PRISM concert aren't your particular cup of eggnog, there are more traditional avenues to explore. Steve Jacobsen, president of the Tallahassee Chapter of the Barbershop Harmony Society (aka the Capital Chordsmen), is part of an international fraternity of barbershop singers ranging from the United States to New Zealand. Naturally, these men are passionate about their music and their audiences.
"We have a unique sound in barbershop harmony," Jacobsen explains. "We strive for a four-note chord that … has overtones on top of overtones."
Jacobsen said the unique sound has kept barbershop groups relevant and well liked over the years, and their love for the sound will show in the Capital Chordsmen's Seventh Annual Holiday Harmony Concert.
The concert is divided into two parts. The first tells the story of Christmas with sacred selections and readings, while the second is a musical spoof of  "The Night Before Christmas." The juxtaposition of reverence and comedy provides an enjoyable experience to those attending this family-friendly event. As the jovial Jacobsen explained, "It's not the holiday season until you've seen our show."
Tallahassee even has shows for locals who prefer more instrument-based entertainment that is traditional but still utilizes audience interaction. For example, Tallahassee's Bach Parley will focus on playing the music of the famous composer and his family. This year, the Bach Parley presents "C.P.E. Bach at 300," which will honor Bach's son Carl Philipp Emanuel Bach on the tercentennial of C.P.E.'s birth by performing only the younger Bach's music.
The concert will cover C.P.E. Bach's music in a variety of ways, including cello concertos, symphonies and sonatas. During a musical "parley," every piece of music is explained to the audience in its historic context.
Music Director Valerie Arsenault said, "The word 'parley' in French means discussion, and a key element of Tallahassee Bach Parley concerts is the commentary offered by our music director to engage and enlighten our audience with historical background about the composers and their world."
One of the most inclusive groups to be performing during the holiday season is the Tallahassee Community Chorus in concert with FSU's choirs. Under the direction of FSU professor Dr. Andre Thomas, the ensemble requires no audition and includes more than 200 FSU students and people of all ages from throughout the community. Its "Seasonal Celebration" concert is set for Dec. 6 and 7 at Ruby Diamond Concert Hall.
Other local groups worthy of consideration include the Tallahassee Symphony Orchestra, the Boys' Choir of Tallahassee and the Tallahassee Civic Chorale. The TSO's "Holiday Magic!" concert promises to play both "timeless classics and sentimental favorites" in an "anything-goes" atmosphere. As part of its holiday efforts, The Boys' Choir of Tallahassee will host its second annual "Cheer for the Choir" Dec. 4 at Goodwood Museum & Gardens. Also, the Tallahassee Civic Chorale will use its fall concert to commemorate the 1914 Christmas Truce of World War I, a fitting way for families to honor the fallen on the conflict's centennial observation.
No matter what holiday sound you prefer, Tallahassee is sure to offer something to accommodate you. So make your plans, gather your family and friends, and experience Christmas the way it was meant to be — in the community.
A Season of Musical Delights
Just a sampling of the musical programs you can enjoy throughout the holidays.
Nov. 23
Tallahassee Bach Parley Presents C.P.E. Bach at 300
3 p.m., St. John's Episcopal Church. $10 suggested donation, childcare available. tallahasseebachparley.org
Dec. 2
Tallahassee Music Guild's 26th production of George F. Handel's Messiah Sing-Along
7:30 p.m., Faith Presbyterian Church on Meridian Road. $10 for adults, $5 for students and children ($5 rebate when your return the score). For more information, call Peggy Snapp or Doris Pollock at (850) 893-5274.
Dec. 2–5
FSU PRISM 2014
7:30 p.m. Dec. 2–4, 8 p.m. Dec. 5. Ruby Diamond Concert Hall, Florida State University. $18. Reserved seating. Purchase tickets through the College of Music Box Office (850) 645-7949 starting Oct. 6.
Dec. 4
Tallahassee Boys' Choir
Goodwood Museum & Gardens. theboyschoir.org (850) 224-9934
Dec. 6–7
Tallahassee Community Chorus Seasonal Celebration
7:30 p.m. Dec. 6, 6 p.m. Dec. 7, Ruby Diamond Concert Hall, Florida State University.
tcchorus.org
Dec. 9
Tallahassee Civic Chorale
Tallahassee Community College Turner Auditorium. $9 for adults, $7 for seniors and non-TCC students. Free for TCC students, faculty and staff (850) 942-1893
Dec. 11 and 18
Capital Chordsmen
7 p.m. Tallahassee Senior Center. $12.50 for adults, $10 for seniors, $5 for students. For tickets, visit capitalchordsmen.org or purchase tickets at the door. (850) 224-7729
Dec. 12–14
Bradfordville Baptist Church's Singing
Christmas Tree
Tickets are free, offerings are accepted. (850) 893-0893
Dec. 19–20
Tallahassee Symphony Presents 'Holiday Magic!'
8 p.m. Ruby Diamond Concert Hall, Florida State University Campus. $10 to $47 tallahasseesymphony.org/December2014