Tallahassee Magazine 2015 Year in Review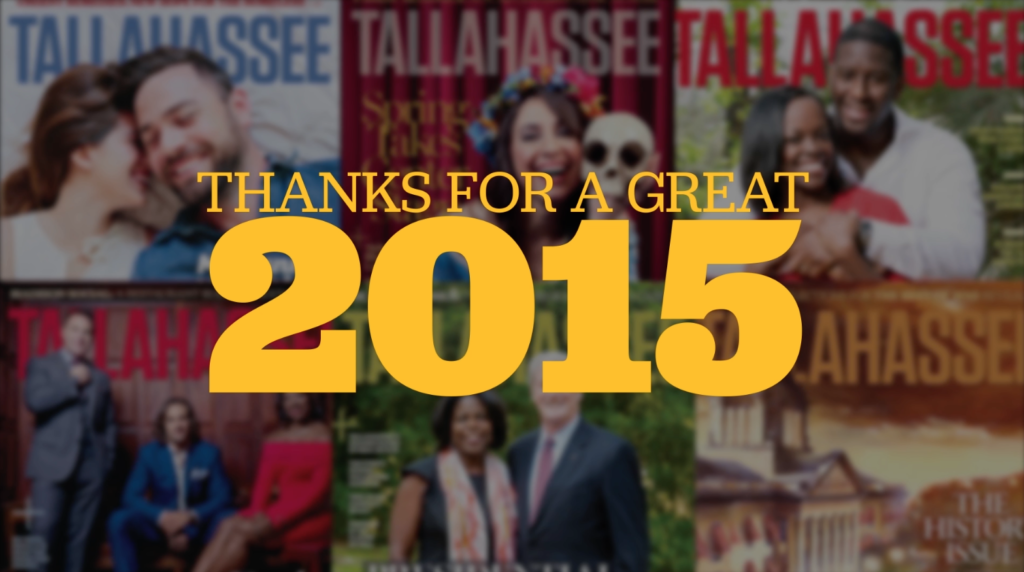 Tallahassee's lively and compassionate community has so much heart, and that pulse was felt throughout every page of our six issues in 2015. This year we explored top trends, chatted with locals, looked forward to the future and took a step back into Tallahassee's rich past.
To kick things off, our January/ February issue gathered local lovebirds to share their romantic and often humorous tales on how they met. We made something old into new again through our story on antiquing throughout the region. Also in this issue, the homeless community in Tallahassee was given a voice when we engaged in a discussion on what is being done to provide those who are in need with aide.
The March/April issue sprung onto stands with a feature on the performances that bloomed during Springtime Tallahassee. The 2015 issue of Northwest Florida Weddings and Honeymoon Destinations was an added bonus to this issue, providing all of the necessary resources for a Northwest Florida bride planning her own fairytale. We munched our way through nine of Tallahassee's most popular sandwiches, leaving behind crumbs of valuable foodie facts.
Mayor Andrew Gillum and his wife R. Jai graced the cover of our May/June issue. We got to know the pair on a personal level as they shared details on how they met and their adorable twins. After we were done chatting it up with Tallahassee's first couple, we put on our trench coats to examine crime cases gone cold in the Tallahassee area.
July/August sizzled with 19 of Tallahassee's most eligible bachelors and bachelorettes. We got up close and personal with Q&A's and a glamorous photo shoot that introduced the community to the 2015 class of Top Singles. To cool things down, we dove into the depths of blue waters with a story on the adventure and thrill of underwater hunting.
We received a little presidential perspective from Florida State University's President John Thrasher and Florida A&M University's President Elmira Mangum in our September/October edition. We also sipped a cup o' joe with locally owned Catalina Coffee and discussed their expansion to four locations. Our medical report pulled statistics and updates on medicine in the capital city.
We closed out the year with a blast from the past. The November/December issue included an assortment of stories that appeared in former issues of Tallahassee Magazine. To end 2015 right, Florida's First Lady Ann Scott invited us inside of the Governor's Mansion to reveal her tips for celebrating the holidays. And finally Star Wars fans united in anticipation of the newest film to join the saga.
For the success and happiness that 2015 has brought we must thank you, our dedicated readers. We can't wait to see what the year 2016 has in store for us!
2015 Tallahassee Magazine Events
2015 Tallahassee Magazine Videos