Stylish Ideas for Wet-Weather Wear
This Spring's Forecast Calls for a 100 Percent Chance of Style and Fun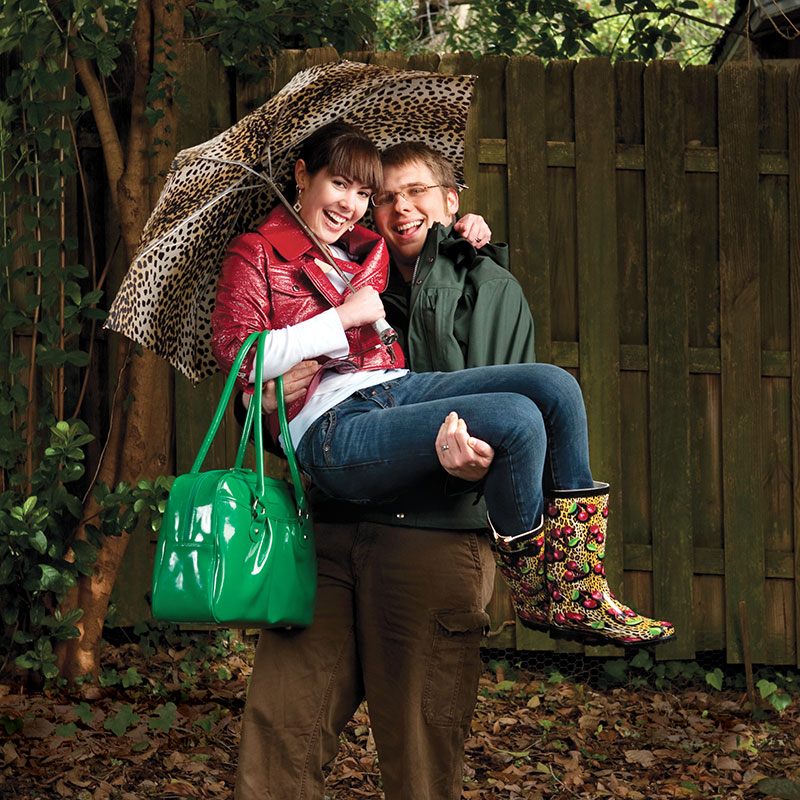 April showers may bring May flowers, but they also create an opportunity to show off your chic rain gear. Armed with these fashionable and practical coats, boots and umbrellas, you can do as much singin' and dancin' in the rain as you please.
photos By Scott Holstein
Amy's wearing: Mavi Alicia skinny jeans ($98, Narcissus); Three Dot white T-shirt ($62, Narcissus); silver hoop earrings with rhinestone accents ($28, Narcissus); Red Tulle jacket ($105, The Carriage Shop); Baekgaard pleated satchel in shamrock ($160, The Grey Fox); Totes leopard-print umbrella ($22, Belk); and Chooka Signature leopard print rain boots ($65, Fabreana).
Bruce is wearing: Carhartt waterproof breathable jacket in evergreen ($116.99,
The Shoe Box)
To keep your face and hair looking their best when it's rainy and humid, try Cargo's better-than-waterproof mascara ($20 Narcissus), as well as products from Haute Headz, including Moroccan oil intense hydrating mask ($50); or Bumble and Bumble's Classic Hairspray ($26), Defrizz ($25) and Finishing Balm ($37).