Shine a Light on Your Yard
The most notable benefits of landscaping lighting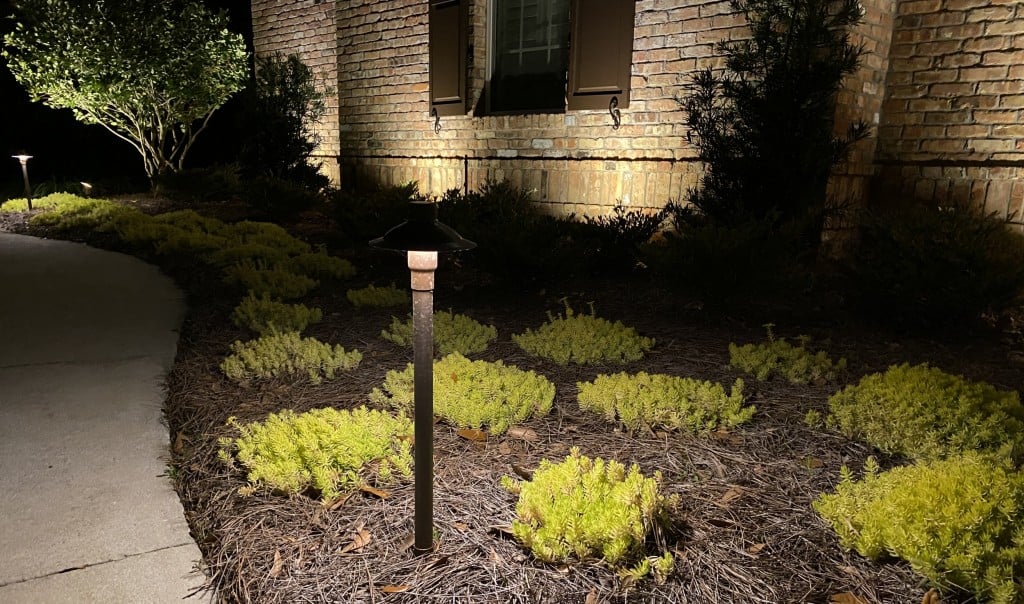 Our beloved Sunshine State is known for its long summer days.
A favorite way to extend those days into the fall season is by lighting up outdoor living spaces. Landscape lighting keeps the garden alive by highlighting special features and adding visual depth to your yard, but those aren't the only perks. We asked Tallahassee Nurseries to share the feedback they've received from their customers about the most notable benefits of landscaping lighting.
Four Main Benefits of Landscape Lighting
Safety and Security
By illuminating sidewalks, steps and other areas, low-voltage landscape lighting provides additional visibility for potential hazards and missteps. Additionally, studies have shown that a well-lit home is less likely to be targeted for burglaries. By installing landscape lighting throughout your yard, not only are you enhancing your space, but you're increasing the overall visibility surrounding your home.
Home Equity
An oft-forgotten part of curb appeal is curb appeal in the night and evenings. A well-designed LED landscape lighting system has a 50% ROI according to the National Association of Realtors and has a very low cost in terms of monthly energy impact.
Beauty
Adding lighting to your landscape enhances plants, fountains and architectural features to create nighttime works of art and enhancing the beauty of the home and garden after sundown — an envious ambiance without a doubt.
Extend Your Day
Enjoyment of your garden and outdoor spaces doesn't have to end when the sun goes down. By illuminating your landscape, you'll enjoy your outdoor spaces into the evening and night, especially during the fall and winter seasons.
A linchpin of enjoying these benefits is the design. Design is what brings these benefits to life with the proper selection of light size, shape, style, strength and placement among other things. A great way to choose the right contractor is to ask around and do some research. Do you have a neighbor who has landscape lighting you love? Ask them who did the job! Be sure to check references and find out how much experience the contractor has, specifically in landscape lighting, design and installation.
Also keep in mind, there is no substitute for quality. The difference is night and day.
Tallahassee Nurseries
2911 Thomasville Road  |  (850) 385-2162  |  tallahasseenurseries.com