Try These Delicious Roast Beef & Horseradish Cheese Baked Sliders
Make-ahead sliders are super snacks for Superbowl parties.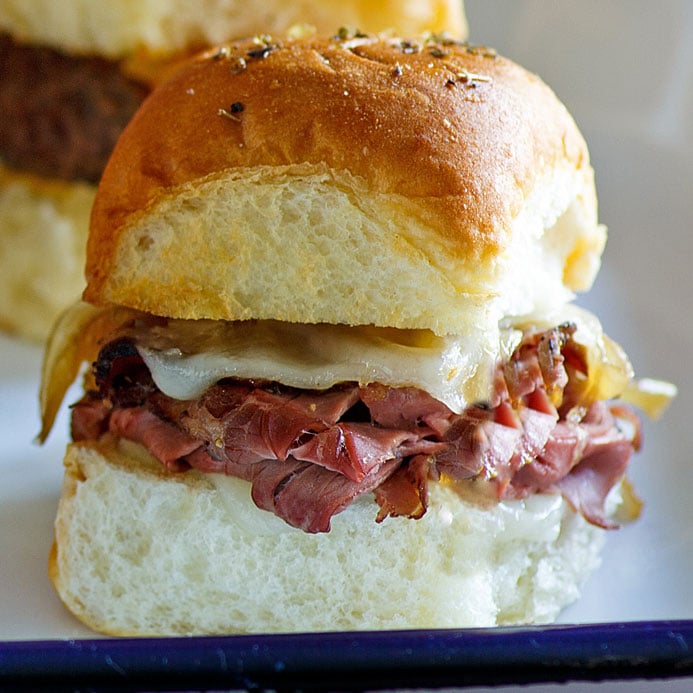 1 yellow onion, thinly sliced
2 tablespoons butter, divided
1 tablespoon brown sugar
1 teaspoon salt
12 Kings Hawaiian Rolls
12 slices of horseradish cheddar cheese
12 slices of roast beef deli meat
¼ teaspoon dried oregano
Preheat oven to 350 degrees. Melt 1 tablespoon of butter in a large skillet over medium-low heat. Add in onion, brown sugar and salt; stir and cook until onions are softened, 5 to 10 minutes. Place the bottom of the rolls in a baking dish and lay 6 slices of cheese on them. Cover each roll with a slice of roast beef. Spoon onions over the meat and top with the remaining 6 slices of cheese. Put tops of the rolls on top and brush remaining melted butter on them. Sprinkle with oregano. Bake for 10-15 minutes or until cheese melts.
Hint: If you can't find horseradish cheese, spread creamy horseradish on the buns and use regular cheddar cheese