Recently Completed and Soon to Come Construction in Tallahassee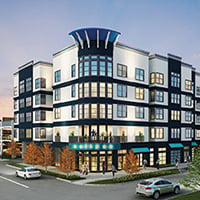 Recently Completed
The last piece to the Magnolia Grove puzzle has fallen into place with the addition of MISSION BBQ. Situated adjacent to WhichWich, MISSION BBQ co-founders Bill Kraus and Steve Newton are said to pride themselves on running a "patriotic business." The company, now spanning five states, works closely with foundations like The Wounded Warrior Project, Semper Fi Fund and many others.
While still at 1410 Market Street in The Market District, My Favorite Things recently relocated to the east side of the plaza to suite C3. With the same amount of retail space, Nancy Nystrom, a My Favorite Things sales representative, said the major pull was increased foot traffic and visibility. "The whole front of the store is windows now," Nystrom said.
​
With the addition of the Eclipse on Madison at 742 West Madison Street near Florida State's main campus, luxury student living options are rapidly increasing. The boutique building project led by Winter Park Construction features 47 units and 5,260 square feet of ground floor mixed retail.
Premier Construction & Development Inc. recently closed on a 7,000 acre parcel of land in northeastern Leon County. Previously known as Welaunee, the area is now undergoing fresh development and has been rebranded as Canopy. "The reason we came up with that name is because it's located between Miccosukee and Centerville, two of our primary canopy roads," explained Jeff Doxsee, a residential specialist with Premier.
According to Premier, the property is slated to become home to a diverse array of higher-end housing options and amusements. Still in its early phases, the project's completion date could be as far out as 2019.
Next Up
Expansion at Bannerman Crossing is progressing nicely toward an anticipated opening between April and June 2016. This multi-faceted development includes retail space, professional office space and residential home sites. The south side of the development is devoted to a total of 70,000 square feet of retail space that will host restaurants, bars, boutiques and other businesses, according to Summit Group Commercial, LLC. Space remains available for lease. Confirmed tenants include New Leaf Market, Giggles Indoor Play Center, a Moe's restaurant and Red Eye Coffee.
Compiled By Chay D. Baxley