Puppy Love: At 'Pets & Their People,' Cuteness Rules the Day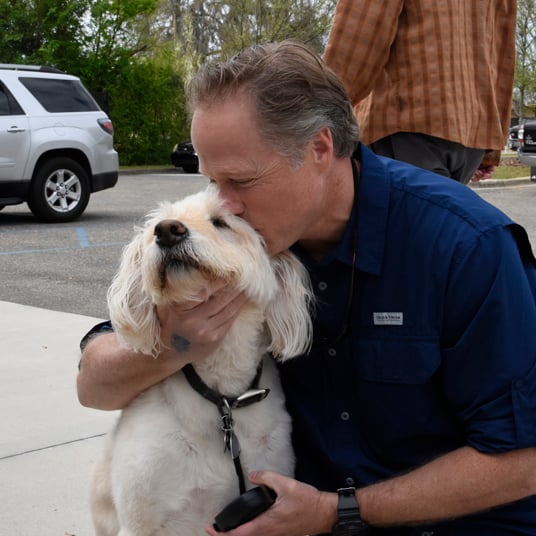 Eighteen lives were dramatically changed.
And that's not to mention the people and families who did the adopting.
A dozen and a half eminently adoptable puppies began their St. PAWtrick's Day — at least that's what we're calling it — at their current foster homes and concluded them as the centers of attention at their new forever homes.
Again this year, the adoptable proved irresistible at Tallahassee Magazine's 14th annual Pets & Their People, conducted on Saturday, March 17, at Proctor Subaru, the presenting sponsor of the event.
An estimated 500 people went to the dogs this year, learned about the work of the Humane Society, sipped Bloody Marys and mimosas served up by bar sponsor GVO (Good Vibes Only), and munched on brunch prepared by Street Chefs, whose owner, Rebecca Kelly-Manders, is a new Pets & Their People sponsor. Sodas and VitaNourish, a vitamin-rich puppy water, were distributed from a Pepsi truck.
"We love the Humane Society, love the work that they do and are always happy to come out and support them," Kelly-Manders said.
Twenty-two people joined in puppy yoga, sponsored by Sweat Therapy Fitness. While the bi-pedals involved stretched, performed strength moves and worked on their balance, the puppies clambered, scampered and even snuggled. Yoga participants stretched their faces, so broad were their gins, while onlookers oohed and aahed in response to a showroom full of cuteness.
All about the Proctor campus, dogs big and little led their owners around and met fellow canines. South of Echo provided live music and, appropriately enough, a recording of "Who Let the Dogs Out" was heard when the musicians took a break.
Attendees, sponsors and event vendors were united in their desire to help the Humane Society. Table vendors included Be the Solution, Bradfordville Paws & Claws, Buck Lake Animal Hospital, Campus USA Credit Union, Capital Veterinary Specialists, Charla's School of Dance, Creation's Care Pet Sitting, Elle Market, Killearn Animal Hospital, the Leon County Sheriff's Office K-9 Unit, North Florida Animal Hospital, Nuberri Frozen Yogurt, Oakwood Animal Hospital, Pet Paradise, Petagon Inc., Pure Barre Tallahassee, Saltwater Seafood, Tallahassee Nurseries, Tally Cat Café, TMH Animal Therapy, Proctor Subaru and Tallahassee Magazine.
The Selfitally "fur friendly" photo station proved to be especially popular. Pups were placed on a table and had their digitally framed "pug shots" taken along with their owners. (Check out #TmagPets on Instagram and see the photo library, below.)
Local businesses combined to donate more than $3,500 in door prize giveaways: AXIOS, Elle Market, Hearth & Soul, Nuberri, Pure Barre Tallahassee, Saltwater Seafood, Sky Zone, Starbucks, Tallahassee Magazine, Killearn Animal Hospital and Tallahassee Nurseries.
Barbara and Glen Doran of Tallahassee were among the folks who left the event as new pet owners. They lost their last dog four years ago and were ready to bring a pooch back into the family. At Pets & Their People, they found a pup they agreed upon and soon were taking turns holding it their arms.
Tallahassee Magazine looks forward to presenting an event's proceed check to the Leon County Humane Society in May.