Panama City Beach: Music, Food and Fun for Everyone
Check out the area's upcoming events!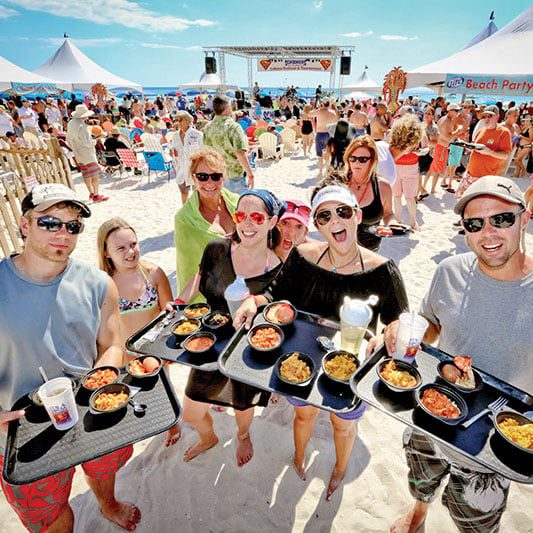 Pepsi Gulf Coast Jam
Sept. 1–3
More a start to an event-packed fall than an end to summer, Labor Day weekend in PCB means Pepsi Gulf Coast Jam. This highly anticipated concert has been bringing the hottest country music stars to the beach since 2013, ratcheting up the bar year after year. This year is no exception. Headlining acts for 2017 include Luke Bryan, Little Big Town and Jason Aldean. Book a concert package from a participating lodging property for special seating and free shuttle rides to Frank Brown Park. GulfCoastJam.com
28th Annual Lobster Festival
Sept. 11–17
The biggest seven-day lobster festival in Florida takes place at Schooners during the middle of September. Lobster tournament divers hunt for local lobsters and vie for prizes, while spectators devour delicious lobster dishes and participate in a sand sculpting contest. Schooners.com
Bloody Mary & Music Festival
Oct. 21
Enjoy all-you-can-drink bloody mary samples from 25 vendors before casting your vote for the best bloody mary. The winner (the "Big Tomato") will be awarded a trophy and some serious bragging rights. A full bar and local eats will also be available. Admission is $20 per person ($15 for military/first responders with ID). The spectacular Gulf of Mexico provides the backdrop for this event held at Schooners. GrandLagoon.org
17th Annual Thunder Beach Motorcycle Rally
Oct. 25–29 & May 2–6
Known as "The Most Biker Friendly FREE Rally in the United States," Thunder Beach Motorcycle Rally is held twice yearly in Panama City Beach during the first weekend in May and mid-October. Bikers from around the country enjoy scenic rides along the Emerald Coast, live entertainment and local cuisine. ThunderBeachProductions.com
Ironman Florida
Nov. 4, 2017
What began as a challenge between groups of Navy Seals has become one of the most recognized endurance events in the world. The Ironman consists of a 2.4-mile swim, a 112-mile bike ride and a 26.2-mile run, with the Florida edition of the challenge serving as one of the most popular races on the circuit. Too much to take on? Check out the new Ironman 70.3 Gulf Coast in May … half the course with all the fun! Ironman.com
Emerald Coast Cruizin'
Nov. 8–11 & March 7–10
Twice a year, Panama City Beach pays homage to the classics … cars that is. Activities include cruise-ins, concerts, parties, vendors, food, parades and celebrity appearances. Car enthusiasts of all ages are welcome to check out the thousands of hot rods, customs, muscle cars, trucks and classics on display. EmeraldCoastCruizin.com
29th Annual Junior League of Panama City Holly Fair
Nov. 9–12
While it is certainly a unique shopping experience, Holly Fair, held at Edgewater Golf and Beach Resort in Panama City Beach, is also a holiday tradition that helps to fund the Junior League of Panama City's many community projects. Over 90 merchants will set up booths at the fair in order to sell apparel, jewelry, home goods, holiday items and loads more. Guests will also enjoy live music and great food. jlpanamacity.org
Vintage Market Days of Northwest Florida
Nov. 10–12
Vintage Market Days, held at Frank Brown Park in Panama City Beach, is an indoor/outdoor market held twice each year in varying communities across the U.S. Marketgoers will have the opportunity to shop for original art, antiques and vintage items, clothing, jewelry, handmade goods, decor, food and much more, all in plenty of time for the season of gift-giving that is right around the corner. vintagemarketdays.com/market/nw-florida
Chili Vibrations
Nov. 17–18
Anyone convinced that his chili is the best around can face off with others (who probably believe the very same thing) at the Chili Vibrations World Music Festival & Chili Cookoff at the world famous Spinnaker Beach Club. Musical performers will include The Hip Abduction, The Movement, Passafire, Leilani Wolfgramm, Horizen and Fish Out of Water. The cookoff competition will take place in red chili and salsa divisions. Top three place winners will receive cash prizes and trophies. Chilivibrations.com
Beach Home for the Holidays
Thanksgiving Weekend
Kicking off Thanksgiving weekend, Beach Home for the Holidays includes a fun-filled lineup of activities and events to entice families from far and wide to build new traditions and celebrate the season together in Panama City Beach. Highlights include the lighting of a 30-foot Christmas tree, magical Santa's Village and holiday music concerts (past acts include Wynonna Judd, John Berry and Panama City POPS Orchestra). VisitPanamCityBeach.com
Panama City Beach Marathon
Dec. 2
Runners can choose from a marathon, half-marathon, 5K or kid's fun run in this popular annual event — regardless of the division, all win with a view of the Gulf of Mexico to guide them along. PCBMarathon.com
Ninth Annual Beach Ball Drop
Dec. 31
Celebrate New Year's Eve on the beach! A family-friendly countdown at 8 p.m. culminates with fireworks and 10,000 beach balls being dropped over the crowd. As the seconds tick down to midnight, thousands of revelers watch the Celebration Tower as a glowing beach ball descends to signify the start of a New Year and kicks off a second round of fireworks. Live music sets a festive tone all night long! VisitPanamaCtyBeach.com
2018 EVENTS
Winter Resident Appreciation Day
JAN. 18, FEB. 8, FEB. 22
Celebrate your snowbird status with coffee, doughnuts and giveaways at the Lyndell Center at Panama City Beach Senior Center. You're bound to make some new, fairweather — in the very best way — friends. visitpanamacitybeach.com/events/winter-residents
Winter Resident Homecoming
Jan. 23
Celebrate your return to your winter home with a special "homecoming" dance, DJ-ed by Jim Lawson and held at Laketown Wharf Resort in Panama City Beach. visitpanamacitybeach.com/events/winter-residents
Panama City Beach Mardi Gras & Music Festival
Feb. 9–10
The most family-friendly Mardi Gras celebration on the Gulf Coast, this two-day festival takes place in Pier Park and is one of the most fun Mardi Gras events anywhere. Enjoy a weekend filled with parades, float tours, street fair, kids zone and live music (and lots and lots of beads). VisitPanamaCityBeach.com
Winter Resident Senior Prom 2018
Feb. 13
Grab your date and put on your dancin' shoes for this special event, held at Edgewater Beach Resort in Panama City Beach the evening before Valentine's Day. visitpanamacitybeach.com/events/winter-residents
UNwineD
March 23–24
Guests can raise a glass while mixing and mingling with elite chefs, mixologists and top tastemakers at this hip signature spring event. UNwineD features superb craft beer, spirits and wine from around the world, along with culinary creations by Northwest Florida's leading chefs, accompanied by outstanding musical talent (2016 featured Grammy-nominated and acclaimed American folk-rock band The Avett Brothers). VisitPanamCityBeach.com
Seabreeze Jazz Festival
April 18–22
Named a "Top 10 Jazz Festival in the USA" by JazzIZ Magazine and recently nominated as "Best Jazz Festival" at the Oasis Smooth Jazz Awards, the Seabreeze Jazz Festival combines top national smooth jazz artists with a full weekend of fun, sun, great beaches and good times. The event attracts thousands of fans from the U.S., Canada and Europe for the ultimate performance-packed weekend of jazz. SeabreezeJazzFestival.com
Ironman 70.3 Gulf Coast
May 12
This newly rebranded endurance event, previously known as the Gulf Coast Triathlon, begins with a 1.2-mile, open water swim in the Gulf of Mexico. Competitors then bike 56 miles on an out-and-back course through rural Bay County and Panama City Beach. The final leg, a 13.1-mile run, concludes with a spectacular finish at the Edgewater Beach & Golf Resort. IRONMAN 70.3 Gulf Coast will offer 50 slots to the 2018 IRONMAN 70.3 World Championship.
Jeep Beach Jam
May 15–20
Jeep enthusiasts from throughout the United States travel to Frank Brown Park for this five-day event dedicated to all things Jeep. This family-friendly event includes obstacle courses, bonfires, jeep parade, bounce houses, live music and so much more! JeepBeachJam.com
SPECIAL ADVERTISING SECTION