Nick Kroll to Headline FSU Pow Wow on October 19
Behind some of the funniest comedies to hit the screen, Nick Kroll will be hitting the stage this October.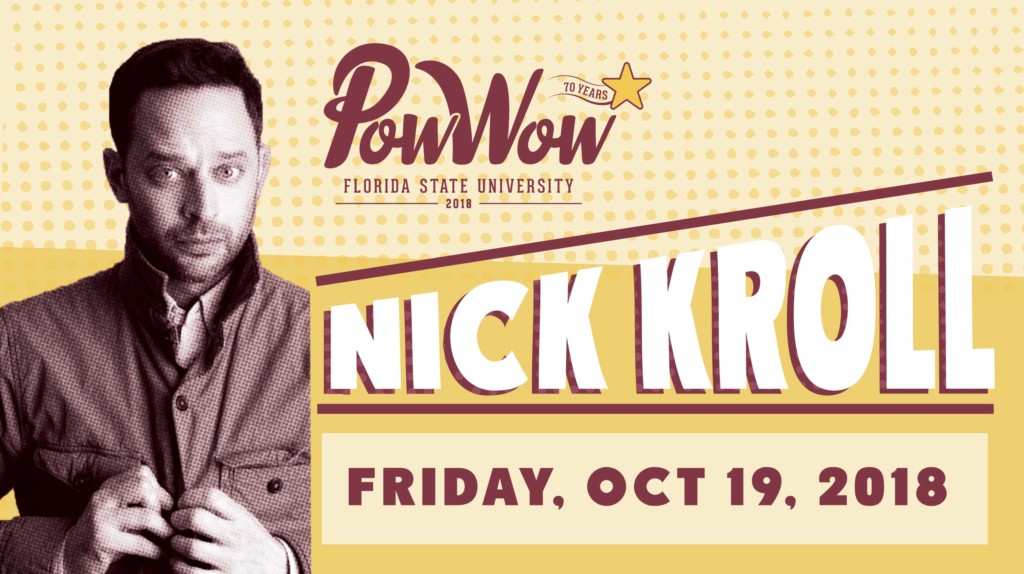 Tallahassee, FL – Florida State University Homecoming and SGA present Pow Wow featuring comedian Nick Kroll live at the Donald L. Tucker Civic Center on Friday, October 19th at 8:00PM.
This event is free to FSU students with a valid ID at the door the day of the show. Tickets to the general public go on sale Monday, September 10th at 10:00AM.
Nick Kroll is an actor, writer and producer. He most recently co-created and voices numerous roles on the Netflix animated series Big Mouth, which has been heralded by the Hollywood Reporter as "sweet, progressive and breathtakingly filthy," and was nominated for an Annie Award for "Best General Audience Animated Television/Broadcast Production."
He recently wrapped productions on MGM's Operation Finale opposite Oscar Isaac and Ben Kingley and can next be seen in Lionsgate's Uncle Drew.
In January 2017, he wrapped his Broadway debut with the critical and financial hit 'Oh, Hello on Broadway'.
Recent film credits include Jeff Nichols' critically acclaimed film Loving, Seth Rogen's Sausage Party and Illumination's SING.
Nick had his own Comedy Central sketch show Kroll Show and starred as Ruxin the hit FX show The League.
Every year, the Florida State University community comes together to celebrate one of the most anticipated weeks of the fall semester—FSU Homecoming.
Alongside enthusiastic students are faculty, staff, alumni, and community members who celebrate Florida State University's rich traditions and excellence. The first Homecoming was held on December 3-4, 1948, and consisted of events on Friday and Saturday night.
Throughout the late 90′s and early 21st century Homecoming expanded to include Skit Night and Warchant, a concert held in the Donald L. Tucker Civic Center, attracting over 8,000 students, faculty, alumni, and community members to see nationally recognized headlining acts.
Past performers include Chance the Rapper, Zac Brown Band, Florida Georgia Line, Ludacris, T.I., Pitbull, and Gym Class Heroes. FSU Homecoming is now a full week of events including Spear-It Night, Karaoke for a Cause, Torch Pursuit, Seminole Festival, Parade and Pow Wow. FSU Homecoming 2018 concludes when Florida State takes on the Demon Deacons of Wake Forest for the Homecoming football game. This year's homecoming theme is "Garnet, Gold, and Glory."
Pow Wow–the largest pep rally at Florida State and one of FSU's longest-running traditions–is emceed by Gene Deckerhoff, the voice of the Seminoles, and includes appearances by the FSU Marching Chiefs, FSU Flying High Circus, FSU Cheerleaders, and FSU Golden Girls among other student performances, and the crowning of the Homecoming Chief and Princess.
Pow Wow culminates with a featured comedian. Past performers include Hannibal Buress, Whitney Cummings, Amy Schumer, Jimmy Fallon, Stephen Colbert, Kathy Griffin, Nick Offerman, Kenan Thompson, and John Oliver.
Become a fan and follow the Donald L. Tucker Civic Center on Facebook  and on Twitter at for special sneak peeks and daily updates. Check out the Tucker Civic Center online at www.TuckerCivicCenter.com.
FSU Pow Wow featuring Nick Kroll
Friday, October 19th, 2018
Donald L. Tucker Civic Center
Doors 7:00PM // Pep Rally 8:00PM // Comedy 9:45PM
Free for FSU students with a valid FSU student ID
General public tickets on sale Monday, September 10th at 10:00AM
Advance general public ticket prices are $39.00 for reserved seating and $29.00 for general admission. Day of show ticket prices are $44.00 for reserved seating and $34.00 for general admission.
All ticket prices are subject to applicable fees.
Tickets can be purchased online at www.TuckerCivicCenter.com, by dialing 850-583-4871 or at the Donald L. Tucker Civic Center Box Office.
About Spectra
Spectra is an industry leader in hosting and entertainment, partnering with clients to create memorable experiences for millions of visitors every year. Spectra's unmatched blend of integrated services delivers incremental value for clients through several primary areas of expertise: Venue Management, Food Services & Hospitality, and Partnerships. Learn more at SpectraExperiences.com.