My Burger Bonanza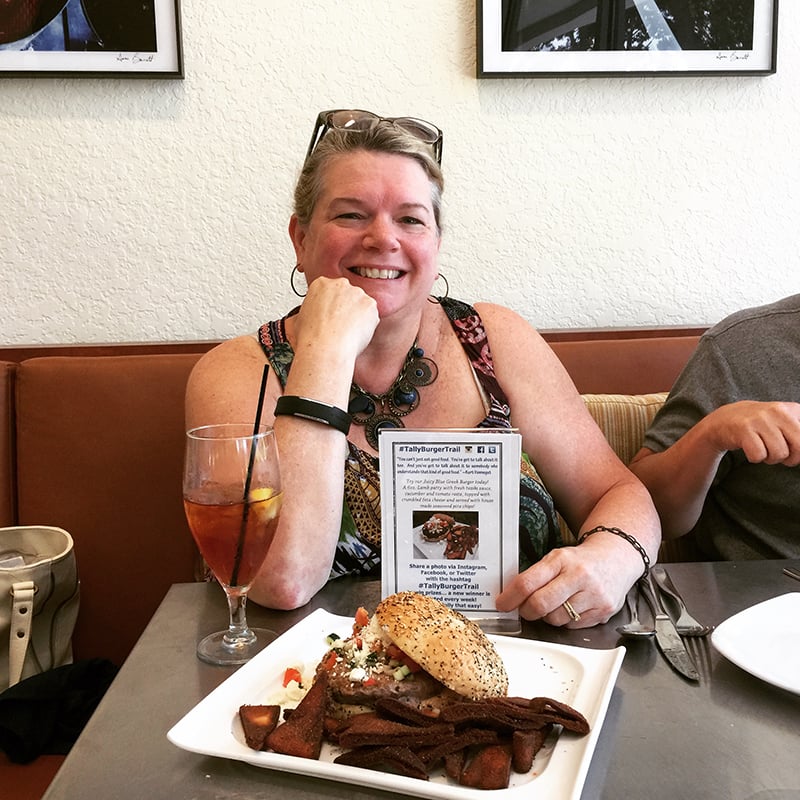 A couple months back, a news release hit my email inbox introducing The Tallahassee Burger Trail. It's a collection of 18 restaurants, either locally owned or operated, that would feature a signature burger for the months of June and July.
I think the sponsors (The Florida Restaurant and Lodging Association [FRLA], VISIT FLORIDA, Cheney Brothers and the Florida Beef Council) were hoping people would pick a few places they may not have been before, eat a few burgers and post pictures on their favorite social media. They were also offering some free swag to the most enthusiastic participants.
Now, I love a good burger, and I saw the Burger Trail as a challenge. By jingo, I was in it for the T-shirt. Not only would I hop "on the trail," I would do it all! Eighteen burgers in eight weeks! At about Week 2, Cypress got added to the list, so …. 19 burgers in eight weeks!
For every stop along the way, I had at least one Burger Companion, because this girl does NOT like to eat alone. I'd usually have to explain what I was up to, as my friends very patiently watched as I fired up the Instagram, took burger photos, and hashtag, hashtag, hashtagged my way through lunch.
Coaching me along the trail was social media master (and FRLA marketing manager) Mat Willey, who "liked" and posted and retweeted and commented my every stop along the way. Never have I gotten so much positive feedback!
And on Wednesday, July 22, I reached my goal, downing my 19th burger at Shula's 347. In a bit of synchronicity, 19 friends and family were with me for the grand finale. Shula's Sarah Kilgore and Mat made a fuss over my grand achievement and did their best to show us a good time.
There's one question I'm always asked: "What was your favorite burger on the trail?" That's like asking me to pick my favorite child. I just can't. But I will list the places I've been — in order — and add a little commentary for each one.
---
There's still more than a week to go on the trail. Grab a burger, take a photo and tag it with #TallyBurgerTrail.