Meet the 2013 Tallahassee Top Singles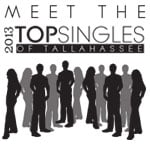 One of the things that struck us about this year's group of 16 Top Singles was the mash-up of personality types. It was like watching a cast of video game characters: the debonair Hero, the crusading Warrior, the devastatingly beautiful Fembot … and so on.
Starting at 7 p.m. on Sat., July 20 at Hotel Duval, our "characters" will be auctioned off in what has become one of the sexiest summer events in town. Food, drinks, music and more are the backdrop for this fun-loving event, now in its fourth year. And you have the chance to score a lunch date with one of our Top Singles for the beginning of what may be the ultimate love connection.
Charity: Cards for a Cure
Steve Adams is the food and beverage director for the various properties under the Hunter + Harp Hospitality umbrella, including Hotel Duval, The Front Porch and Level 8. He is a member of the Florida Restaurant & Lodging Association and has… Read More
---
Charity: Dixon Camp Memorial Reef
Heather is a native of Tallahassee and current works as a stylist with So Pure Salon and Spa. She recently worked with the American Cancer Society's Relay for Life and will soon be working with AVEDA for the Gulf Coast Restoration Network. Read More
---
Charity: Tall Timbers Research Station
A graduate of Duke University and a former minor league baseball player, Tony is a local attorney and avid outdoorsman. He enjoys spending time around at St. Teresa catching some sun while swimming or fishing in the refreshing Gulf waters. Read More
---
Charity: Animal Shelter Foundation
Jean is the owner of Lucy & Leo's Cupcakery, located in midtown Tallahassee. She is president of the Midtown Merchant's Association and often donates hundreds of cupcakes monthly to various local charities. She has also participated in the SMART Ride… Read More
---
Charity: Boys and Girls Club of the Big Bend
Brian is a local attorney and graduate of the Florida State University College of Law. He is a member of the Florida Bar and is affiliated with the Tallahassee Bar Young Lawyers Division. He is also a member of the 2012-2013 class of Knight Creative… Read More
---
Charity: Juvenile Diabetes Research Foundation North Florida Chapter
Doug is a local attorney that doubles as a guitar player and vocalist in local musical outfit, The Flip Flop Boys. He is a member of the Florida Bar and acts as an adviser for the alumni chapter of… Read More
---
Charity: Leon County Humane Society
Kara is a northern transplant that exudes tons of Southern charm and poise. A weekend news anchor for WCTV, Kara is invested in this community and in the stories she covers. In her spare time, Kara enjoys traveling, relaxing at the beach or reading a… Read More
---
Charity: Capital City Youth Services
Robby is the corporate administration manager for the Henry and Rilla White Youth Foundation. He is a member of the Tallahassee Network of Young Professionals and Ducks Unlimited. Read More
---
Charity: American Heart Association
Katie Juckett is the assistant director for Legislative Services Government Law & Policy Practice Group at Greenberg Traurig, P.A. In addition to her budding career in the political realm, Katie is a talented floral designer. She runs a small business… Read More
---
Charity: National Military Family Association
Meghan is a government consultant working with Lisa Miller Associates. A native of Lynn Haven, Meghan is a board member of the Tallahassee Network of Young Professionals. She is also affiliated with The LeMoyne Center of the Visual Arts and… Read More
---
Charity: America's Second Harvest of the Big Bend
Adam is a criminal defense and trial attorney with local law firm, Jansen & Davis. A former state criminal prosecutor, Adam has a solid reputation in the Tallahassee legal community. He is well respected by his peers and clients and is involved in a number… Read More
---
Charity: Children's Home Society/Tree House
Kyli is the retail manager and buyer for local boutique Cole Couture. A member of the Midtown Merchant's Association, Kyli pursues a wide array of hobbies in her free time, from working out to cooking. She is a member of the Junior League of Tallahassee. Read More
---
Charity: Society Foundation
Daniel is the owner of Doorstep Delivery, an online restaurant delivery service that is found in several cities around the state of Florida. A graduate of the University of Florida, Daniel is a member of the Gentlemen Society and Phi Delta Theta. Read More
---
Charity: Mercy Ministries
Zach is the assistant director of sports information for Florida State University's Athletics Department. He is a member of the College Sports Information Directors of America organization and is affiliated with Big Brothers Big Sisters of the Big Bend. Read More
---
Charity: Big Brothers Big Sisters of the Big Bend
Cydeon is a program director at Big Brothers Big Sisters of the Big Bend. Born in Tallahassee, Cydeon is a Florida A&M University graduate and has dedicated her career to early learning and working with children, as well as individuals with disabilities. Read More
---
Charity: Kidz 1st Fund
Cole is an account manager with The Zimmerman Agency and a native of Tallahassee. A single father who dotes on his 6-year-old daughter, Cole's family is steeped in local history, as his great-grandfather was Henry Clifford Summitt, who was a former… Read More
---