Meet Our 2010 Top Singles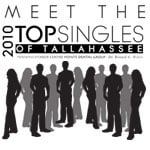 After dressing to impress in fashions from local shops, 14 of the area's most eligible bachelors and bachelorettes gathered at downtown's Hotel Duval to show off their new looks for the photo essay in this issue.
It's all to build excitement for Tallahassee Magazine's 2010 Top Singles Party and Date Auction starting at 8 p.m. July 16 at Hotel Duval. And you're invited.
Each of the singles, selected because of their magnetic personalities, inspiring lifestyles and community involvement, has agreed to enjoy a lunch date with the highest bidder — with the auction proceeds donated to his or her favorite charity.
Whether you're bidding for your ideal date or just enjoying the party and the view from atop the hotel, it promises to be one of 2010's most memorable summer nights in Tallahassee. Even those in happily committed relationships are eligible to win the evening's grand prize — a coastal vacation with complimentary use of a stunning 2010 BMW 3 Series convertible.
Vice President, ProBank
Charity: Rotary Youth Camp Inc.
"I have been told I look like Bradley Cooper, so let's just stop there. I am good with that."
Store Manager, Belk
Charity: Rotary International
"I'm a Midwestern girl living in Tallahassee who loves college football. When I'm not volunteering with Capital City Rotary or Junior League of Tallahassee, I am enjoying the social circles that Tallahassee has to offer. During football season, I'm cheering for the Buckeyes."
Sports Director, WTXL ABC 27HD
Charity: Tallahassee Ronald McDonald House
"Raised on life lessons provided by The Andy Griffith Show."
Sales, Cole Couture
Charity: Children's Home Society
"I am a Tallahassee lassie, born and raised. My friends would describe me as outgoing. I am definitely a people person. My hobbies include reading, travel, snow skiing, listening to live music, cooking, dancing, physical fitness and spending time with my family and friends."
Owner, 101 Restaurant, Club Mint and Versailles wine lounge; Real Estate Marketing Websites
Charity: Ayn Rand Institute
"Driven business guy with too much on his plate to do anything other than work. Hates stressing over work but is bored when not working … I love life."
Client Services, Trusteria Coordinator, Apalachee Center
Charity: Boys Town of North Florida
"I always live by these: treat others as you would want to be treated, as you would want your family and friends to be treated. Live everyday like it's your last and never have regrets, just experiences."
VP, General Manager, Hewlett Packard Sales for Florida Public Sector
Charity: Boys Town of North Florida
"Confident professional who loves where he is in life. Honest, grounded friend."
Director of Sales, Killearn Country Club
Charity: Lee's Place
"I'm the all-American soccer mom who drinks dirty martinis every chance I get! Love my child, love my family, love my job. High energy and extremely organized."
College Student, Coach at Florida High
Charity: American Cancer Society
"I am a coach and student. Fun-loving and never very serious unless at work. When asked, I will always help family and friends. People person."
Account Executive, WTWC-TV — NBC 40; Realtor, Prime South Properties
Charity: America's Second Harvest of the Big Bend
"Fun sports lover from KS who enjoys water/snow skiing, fishing, boating, beach & travel. Red Wine, fine whiskey, fish and beef. K-State proud."
Reporter, WCTV
Charity: Leon County Humane Society
"I love to laugh and have a good time. I think random acts of kindness go a long way … I always look for an opportunity to make someone smile."
Owner, GT Entertainment
Charity: Big Brothers, Big Sisters
"I'm not good at this and have some kind of phobia describing myself. I asked my ex-gf to write something, I figured that would be more honest. lol"
Fiscal Coordinator, Florida Association of Counties
Charity: National Autism Association
"A happy, colorful, passionate, supportive, energetic, loyal, cool, dorky, honest, spirited, music-loving Southern friend and mom."
Group Supervisor, The Zimmerman Agency
Charity: Hang Tough Hayley Hart
"Pour a glass of champagne, turn on some tunes, crank up the laughter and surround me with friends. That's what makes my world go 'round."
---
Special thanks It was a fun and busy two-day photo shoot at Hotel Duval and, although exciting, it wouldn't have been possible without friends and partners who helped Tallahassee's Top Singles look their absolute best.
Coordinator McKenzie Burleigh
Art Director Saige Roberts
Fashions and Accessories
Cole Couture, Narcissus, Nic's Toggery, Vows Tuxedos
Hair and Makeup
Haute Headz Salon: Jeb Gibson, Laura Cowan
Fuel Salon: Julie Newton, Staci Churchill, Sherrie Clark
Location
Hotel Duval
Shula's 347 Grill, Level 8, LeRoc
Automobiles Capital Eurocars
Interns Laura Moore, Alexandra Mizels, Chay Dixon, Kendra Anderson