Shawn Hanway Returns to Serve Area's Youngest Smiles
Cutting edge pediatric dental practice excelles in its sixth month in business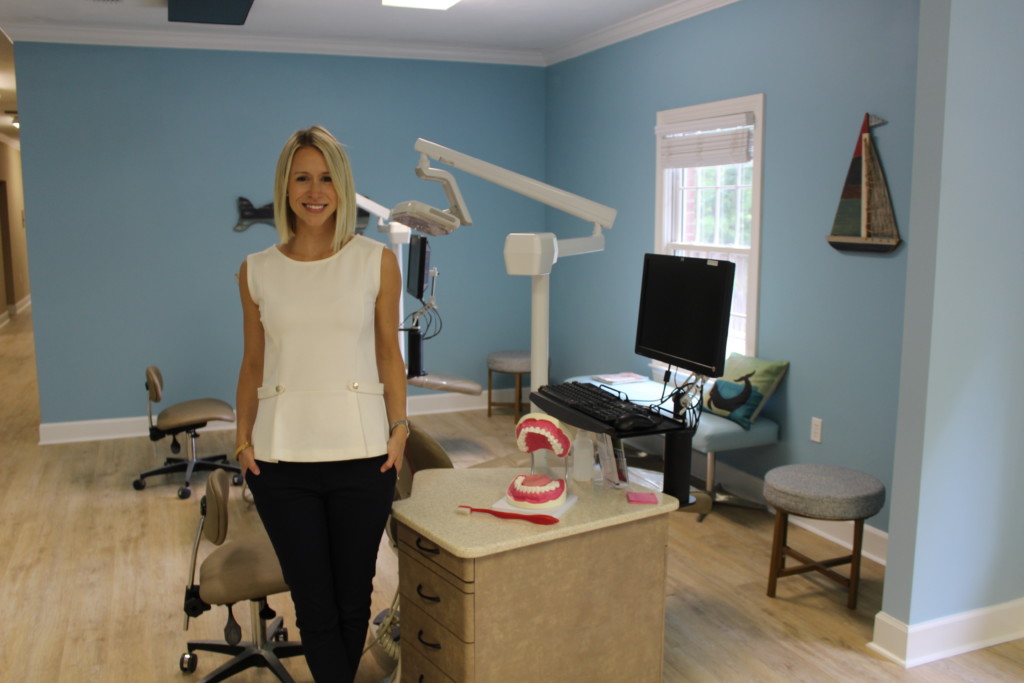 Tallahassee's youngest smiles have someone new looking after them. Dr. Shawn Hanway returned to her hometown Tallahassee and opened a dental practice, Tallahassee Pediatric Dentistry in December of 2016.
A 2006 Chiles High School graduate, Shawn Stott Hanway's family moved to Tallahassee when she was five. Dr. Hanway attended college at Florida State University and was awarded her doctorate from University of Florida College of Dental Medicine. After two years of additional training at UF Shands and University of Florida, she earned her pediatric specialty certificate in May of 2016.
When parents walk in and see TVs on the ceiling, immediately they ask, "Can I be a patient here?" To celebrate their 6-month anniversary, they will be adding in new equipment, expanding their team, and kicking off a reward program for families who keep up with their six month cleanings. High-tech chairs and lights, TVs on the ceiling for kids to pick out their favorite movie while they get their teeth cleaned, and digital imaging are just a few of the unique features that makes going to the dentist more exciting than ever.
A mother describes her visit, "It was amazing. I wish I had this kind of experience when I was a kid. My son was actually asking when he got to go back! The entire staff was wonderful, they answered all my questions thoroughly and explained everything step-by-step. Their office is sparkling clean and they have an area for little ones to be entertained while they wait. It's definitely a place to go for a stress-free appointment."
The renovated 5,000 square foot dental office has a tranquil nautical theme to convey a nurturing, welcoming environment and allay dental anxiety.
"We love the new office. Tallahassee is so fortunate that Dr. Hanway chose to return home to practice pediatric dentistry," said Gina Proctor, mother of two grade-school children. "Her credentials, caring heart, and excellent rapport with children make her an amazing asset to our community."
Proctor, owner of Bedfellow's on Market Street, also appreciates Hanway's effort to now offer special 7:15 a.m. appointments to help working parents minimize time away from work and children's time away from school.
While in residency, Dr. Hanway was recognized for her passion for working with children with craniofacial anomalies. She is also extensively trained in the management of acute trauma, medically complex hospital cases under general anesthesia, conscious sedation, infant oral health, and children with special health care needs. If a child is born with cleft lip/palate, Dr. Hanway is now the only pediatric dentist within a two hour radius where parents can bring their child for the nasoalveolar molding device. She is also the only pediatric dentist offering in-office IV sedation with a pediatric anesthesiologist.
"From the outset, Shawn set herself apart as an astute student with a strong interest and tremendous dedication to children," said Dr. Abi Adewumi, Clinical Associate Professor, Residency Program Director, and Director of Hospital Dentistry at the University of Florida. "She chose a profession and specialty that she enjoys and it shows in the gentle manner she conducts herself with children."
"Tallahassee is such a great community for families. It's special to me to be back and working with children in my hometown," explained Dr. Hanway. "I know the impact I have on our children is lasting and truly affects their long term dental health. I don't take that role lightly. We've worked hard to create a fun environment that fosters smiles through great care and a pleasant experience."