Jewelry for Your Home
Chandeliers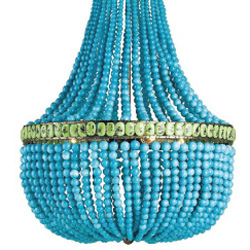 SPARKLING AND GLOWING in a vivid array of colors, dazzling chandeliers make a dramatic statement, and not just hanging above the dinner table — they can also serve as the crowning jewel for any room. Chandeliers today use an impressive range of materials, featuring lots of bling and a wide variety of styles. Just as an outfit is not complete without that perfect "statement" piece of jewelry, a chandelier can become a "statement" piece for any room in your home. Anyone who enters a room decorated by one of these exciting chandeliers will immediately get the feeling you are trying to portray — romantic, glamorous, contemporary, classic or even organic. The beautiful fixtures shown here are available through Suz-annz Down Under (suzannz.com).
SHOP THE STORY
1. Caviar eight-light cluster by Arteriors, shown here in brown nickel finish and smoked glass orbs, starting at $2640. Photo courtesy bronsondesign.com
2. Hedy polished turquoise and jade polished glass on a classically shaped four-light chandelier by Currey & Company, starting at $3960.
3. Jenny natural polished seashells hang from a circular distressed iron ring, four-light chandelier by Oly Studio, starting at $3250.
4. Muriel a cluster of cast resin glass balls with a sea weathered look hang from this antiqued silver chain by Oly Studio, starting at $3250.
5. Goddess draped green glass orbs on a wrought-iron frame four-light chandelier by Currey & Company, starting at $2630.
6. Autumn Twilight antique gold branches create a crystal forest canopy by Golden Lighting, starting at $1985.