Izzy Pub brings sushi and sake to Midtown
Concept comes to life for owner and chef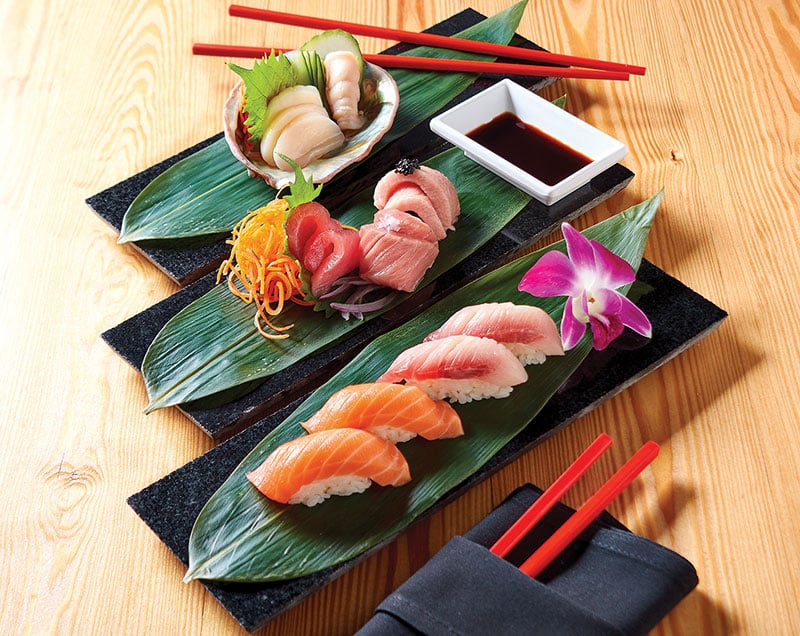 "The vision is for Izzy to be a Japanese version of Cheers," said owner Viet Vu. "A place where people can meet up, hang out, converse and not be in a hurry. Where they can pair a sake and sushi and just enjoy themselves."
The location in Midtown appears to be strategic. It's hard not to notice the salmon pink building, which also houses popular neighbors Paisley Café and The Midtown Reader. Vu is no stranger to the neighborhood, as his other restaurant, Taco Republik, is just down the street.
Izzy's menu lends itself nicely to sharing, from appetizers and small plates to sushi rolls and sake bottles. Happy hour or not, order from their extensive selection of Asian beers, local brews or sake sangria, featuring seasonal fruits.
Over conversation, dip delicious garlic naan points into the creamy and rich Edamammus, and fight over the last Okonomiyaki pub fry, topped with tonkatsu sauce, bonito flakes, pork belly, crispy pork skin, spicy mayo, green onions and black sesame.
There are other menu options, but at Izzy, partaking in sushi is a must. Executive sushi chef Alex Fang trained in New York City and has served his talent to some of the finest sushi establishments in Tallahassee.
Fang and Vu are both passionate about creating an interactive and informative dining experience. They delight in seeking out rare and unique cuts of fish and seafood sourced directly from Japan. Fans follow Izzy on social media to learn about its latest shipments.
Omakase dinners are a treat; Fang selects courses of procured fish for an intimate dining experience.
"I really look forward to the tasting dinners because they allow you to taste piece by piece and really savor the experience," said Vu. "You get to converse with the chef and learn about specialty fish you're eating and the culture. The entire concept of Izzy is something I've wanted to do my whole life."
---
Roll Out the Rolls
Top picks to try
Garnet and Gold: spicy tuna and mango slices, yuzo tobiko, mango sauce, coconut shrimp tempura, krab and cream cheese
Tallahassee Dream: spicy tuna, cucumber, tempura flakes, salmon, salmon roe and honey walnut mayo on top
Club Izzy: signature bourbon teriyaki pork belly, avocado, spicy mayo, scallion, sunnyside up egg and kim chi
Trust Me Roll: Really, trust them.