How Little Lanark Village Helped Save the World
Hell by the Sea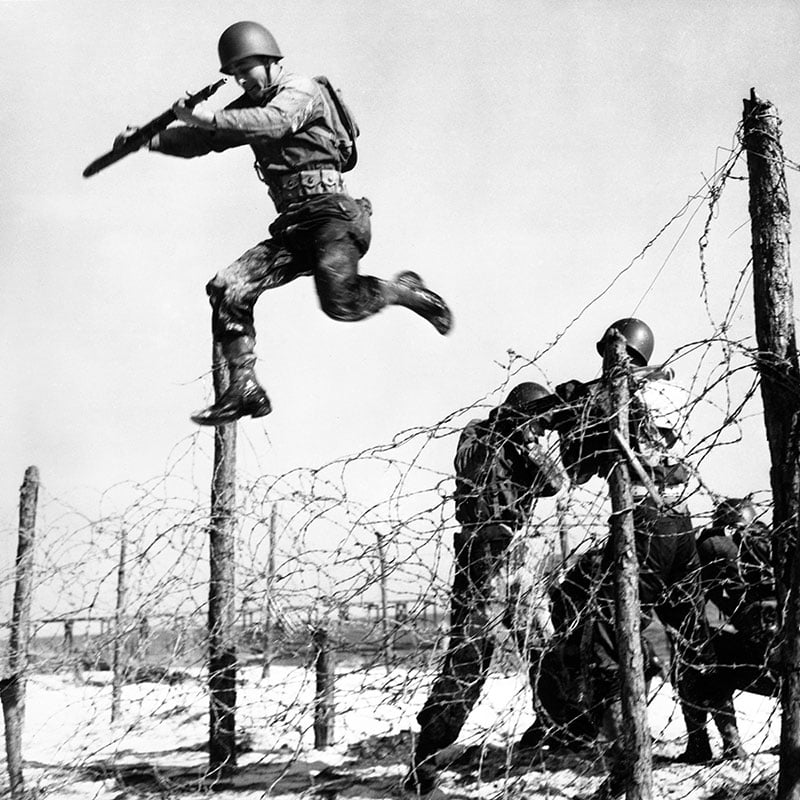 Sharp palmettos sliced at the arms of inexperienced Army soldiers who boarded boats at the Gulf of Mexico coastline south of Tallahassee in a simulated attack on Dog Island. Darkness made each movement perilous, and intense summer heat brought fatigue and swarming bugs as well as rattlesnakes and feral pigs. Once aboard their small boats, high winds churned the waters and heavy rains stung their faces. It was chaos — the full wrath of the dense jungle and wild Gulf brought down upon these teenage soldiers in 1943. And yet it was exactly what top Army officials wanted.
Training exercises on Carrabelle Beach, ca. 1943.
State Archives of Florida, Florida Memory
That training mission and hundreds like it took place at Camp Gordon Johnston, a U.S. Army camp that from 1942 to 1946 was a key preparation site for American forces who fought in the most critical battles of World War II. The unique combination of jungle coastline, rough seas, hot weather and small offshore islands made the camp a perfect place to train soldiers, first for the D-Day invasion of German-held Normandy and later for battles to uproot Japanese forces on South Pacific islands.
Camp Gordon Johnston was opened quickly when American commanders realized amphibious warfare would play a key role in World War II. In just four years, 250,000 men were trained at the camp. But when the war ended, Camp Gordon Johnston simply vanished. All that remained were a few small buildings, some artifacts dropped by soldiers and their commanders, and, unfortunately, hundreds of unexploded bombs and land mines that were used in training. For 50 years, the camp and its history were ignored by locals who did not know the camp existed.
Now, people who trained at the camp have begun to honor its role in historic battles. In 1996, the Camp Gordon Johnston Association held a reunion, and the idea for a museum honoring the camp was born. A small but fascinating museum housed in an old Army theater in Carrabelle preserves memories of the camp. And this spring, the U.S. Army Corps of Engineers embarked on a $3.6 million campaign to find and destroy hundreds of live bombs, grenades and land mines left behind. The cleanup project was initiated after shrapnel and a live grenade were found not far from the intersection of U.S. Highways 98 and 319.
When it was open, Camp Gordon Johnston stretched along 21 miles of the Panhandle coastline, roughly from Alligator Point on the east to St. George Island on the west. The heart of the camp, however, was located in the fishing hamlet of Lanark Village, about 50 miles southwest of Tallahassee. Other camp installations were built in Carrabelle and near St. Teresa.
Conditions at the camp were despised by soldiers but embraced by Army officials who wanted to prepare American soldiers for the terrible fighting conditions they would face on the coast of France and in the islands of the Philippines and New Guinea. The difficult training and harsh conditions earned the camp a fitting nickname.
"In ways it was hell, and it was certainly by the sea, so 'Hell by the Sea' was a pretty good name for it," said Barclay D. Rhea, 86, a retired Pensacola doctor who ran a Camp Gordon Johnston hospital.
In addition to hardships caused by the jungle, the Gulf and surrounding terrain, amenities were kept to a minimum to prepare soldiers for difficult conditions in warfare. For a time, the camp's water system consisted of two elevated planks of wood that formed a trough. Men slept in tents with sand floors and used latrines that were just holes in the ground.
One of the first soldiers to arrive at the camp, Capt. James J. Cuffee, wrote in September 1942 that he was at a camp "that was worse than anything I had ever seen." Cuffee wrote: "We all thought we had it made — palm trees and warm breezes from the Gulf. None of us knew where Carrabelle was and what a hellhole that was. Latrines were poor, and every time it rained, and it did just that most of the time, everything just oozed onto the surface of the ground."
One soldier wrote home to warn his cousin that he should do all he can to stay away from Gordon Johnston and to avoid smarting off to superiors no matter where he ended up.
"It is about 85 degrees here today, and I am glad I am not out in the field," he wrote in a March 1944 letter. "Remember, just keep your mouth shut and your ears and bowels open."
Even the food at Gordon Johnston was infamous for its lack of appeal. One soldier with an ear for poetry penned this ditty about the camp biscuits:
Oh, the biscuits of Carrabelle,
They say are mighty fine.
One fell off the table,
And killed a pal of mine.
Not all was horrible for soldiers at Camp Gordon Johnston, however. On Christmas Day 1943, soldiers were treated to a roast turkey and dressing dinner. On weekends, boxing matches were held so soldiers could blow off steam. Each of the four main encampments had a recreation room, theater and club, and soldiers could swim in the Gulf — nets protected them from sharks.
On special occasions, some soldiers were bused to Tallahassee to go to dances at the Florida State College for Women (now Florida State University). Henry C. Allan, now 79 and living in Illinois, remembers those dances with fondness. Allan said an elderly lady chaperoned the dances and kept a close eye on the soldiers as they danced and mingled with the young women.
"When we got to Tallahassee, it was incredible because there were five or six girls to each guy, and they were hoo-haaing at us," said Allan, an amphibious warfare engineer during his term of service. "I was thinking this was heaven, you know, a young single guy and all these girls cutting in on one another to dance with us. I thought, 'My God, this is wonderful and can only get better.'"
But Allan's joy did not extend to the training. He said a typical day would involve 20-mile jungle hikes and simulated nighttime raids on the coastal islands. He said four men would typically get in a rubber raft and three would get out and dog-paddle their way to the island so as not to make a stir. They would reach the beach, lie there awhile, and then move forward into the jungle, where they trained all night.
"It was a tough place to be, but in retrospect, it was good because it really conditioned us for the battles we fought in New Guinea, the Netherlands and the East Indies," he said.
Like many soldiers who fought to liberate the world during World War II, Allan looks back on his wartime training and fighting with nostalgia.
"I bitched a lot about it, but bitching was the norm for a soldier," he said. "But looking back, my buddies became like brothers, and my wartime experiences were probably the most significant two or three years in my whole life."
The camp had a significant effect on the residents who lived within or just outside the boundaries. Security measures had the greatest impact.
Car and house lights were fitted with a black covering that reduced their brightness and made them harder to spot by German submarines and warships thought to be lurking off the coast. Residents who entered or left the camp boundaries were searched at checkpoints on U.S. 98. And on one occasion, a local schoolgirl tipped off Army officials that a shrimp-boat captain from the region was illegally running supplies to German subs and warship off the coast.
The camp was commissioned in April 1942 after a long search. The Army considered coastal sites in New Jersey, Alabama and South Florida.
The Army needed a new amphibious warfare training camp because the one operating at the time, Camp Edwards in Massachusetts, was too small, too cold and landlocked. The decision to choose Carrabelle drew strong opposition from some of the top generals at the time, including Omar Bradley.
"The person who picked this spot should be court-martialed," Bradley wrote from his post overseas. "You're going to kill them before you even get them over here."
At first, the camp was named Camp Carrabelle, but it was renamed in 1943. The Army name it after Col. Gordon Johnston, an American cavalry officer who won the Medal of Honor for fighting in the Philippines years before. Johnston had no connection to Florida; his name simply was next on the list of war heroes to be honored. He died unceremoniously in a polo accident.
The camp was spread out along the coast, and engineers built docks that stretched nearly two miles into the Gulf. Some of the pilings from those piers can still be seen today at low tide. Training missions occurred on land, sea and in the air.
In land-based training missions, soldiers would creep under barbed wire, then slither through brush and briars while live rifle and machine-gun fire zipped over their heads. During practice missions, the Army used then-uninhabited Dog, St. Teresa and St. George islands to represent the Normandy coast and the Pacific islands.
Soldiers on amphibious training missions often had to navigate through waters covered with burning oil. One black and white training video show soldiers wading and swimming through burning oil in the clear waters of Wakulla Springs. Men with water hoses stood by in case anyone caught fire.
On one nightmare mission in the Gulf, disoriented soldiers thought they had reached ground but had only struck a sandbar. Following orders, the soldiers, wearing full combat packs, stepped off their boat and into 10-foot-deep water. Nearly two dozen drowned.
At the former logging town of Harbeson City along the Crooked River, soldiers erected a mock German village that was used for simulated combat exercises. Soldiers practiced street fighting and blew up buildings in the town, which no longer exists. Aircraft used the waters of the Apalachee Bay as an area for target practice, and even some small blimps made practice takeoffs and landings on the area beaches.
Soldiers who trained at the camp went on to fight all over the world and saw action in famous battles across Europe, Africa and Asia. Camp Gordon Johnston also gained notoriety as one of the first camps to train a large number of African-American soldiers for combat in World War II. Except for training missions, the black soldiers were segregated from the white soldiers and they had their own dances called Jitterbug Jamborees.
When World War II ended, the United States and the Allied nations had new concerns, such as the threat of atomic weapons and the start of the Cold War. In such situations, an amphibious training camp like Gordon Johnston was no longer needed.
Linda Minichello, curator at the Camp Gordon Johnston Museum, said it is important that people remember the camp and its role in World War II, particularly as the region continues to grow and extensive residential development could destroy any remaining remnants of the camp.
We're making sure nobody ever forgets that Franklin county played a major role in WWII," she said. "A portion of these guys who trained here died, died overseas, and we have to preserve that memory."