Hannibal Buress and Hasan Minhaj to Headline FSU Pow Wow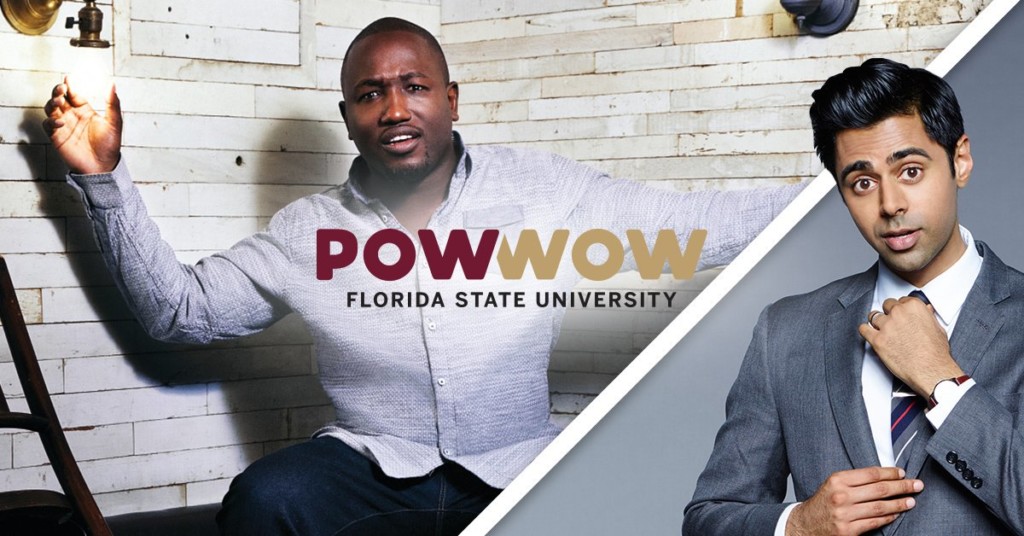 PRESS RELEASE
Florida State University Homecoming has announced that comedians Hannibal Buress and Hasan Minhaj will headline Pow Wow at the Donald L. Tucker Civic Center on Nov. 17 at 8 p.m.
Tickets to the general public go on sale next Friday (Sept. 8) at 10 a.m. General public ticket prices are $37 for reserved seating and $27 for general admission. All ticket prices are subject to applicable fees. Tickets can be purchased online at www.tuckerciviccenter.com, by dialing 850-583-4871 or at the Donald L. Tucker Civic Center Box Office. This event is free to FSU students with a valid ID day of show at the door.
Hannibal Buress is a popular comedian, writer, and actor who is a favorite of fans and critics on big and small screens alike. With his first national theatre standup comedy tour sold out and The New York Times lauding him as one of the most "supremely gifted and respected" comics around, Hannibal is emerging as a comedy superstar. His third hour-long standup special Comedy Camisado is currently streaming on Netflix. He is also a cast member on Comedy Central's hit series Broad City, as well as the co-host of Adult Swim's The Eric Andre Show.
Buress is a favorite on the latenight circuit and has written for NBC's Saturday Night Live as well as 30 Rock. He's also appeared in the comedy feature Daddy's Home alongside Will Ferrell and Mark Wahlberg, Baywatch, and most recently Spider-Man: Homecoming. He's also lent his voice to the animated films The Secret Life of Pets and Angry Birds.
Hasan Minhaj is a comedian, actor, host, and writer. In November 2014, he made his debut as a full-time correspondent on the Emmy and Peabody award-winning The Daily Show and became the last hire made by then-host Jon Stewart.
HASAN MINHAJ: HOMECOMING KING is now streaming as a comedy special on Netflix. Recently, Hasan had the prestigious honor of hosting the annual White House Correspondents Dinner in Washington, DC on April 29th. Hasan recently appeared in the feature film Rough Night, alongside Scarlett Johansson and Kate McKinnon, and will be appearing in the film Most Likely to Murder, opposite Rachel Bloom and Adam Pally set to be released in 2018.
Minhaj has been featured on Comedy Central's hit show @Midnight and other TV credits include HBO's Getting On, Arrested Development for Netflix, and Chelsea. He regularly performs standup and participates in storytelling shows around the country. His viral web series 'The Truth with Hasan Minhaj' has been featured in numerous publications including The Huffington Post, Gawker, and the New York Times.
About FSU Pow Wow
FSU Pow Wow featuring Hannibal Buress with Hasan Minhaj
Friday, Nov. 17, 2017
Donald L. Tucker Civic Center
Doors 7 p.m. // Show 8 p.m. // Comedy 9:15 pm
Free for FSU students with a valid FSU student ID
General public tickets on sale Friday, Sept. 8 at 10 a.m.
Pow Wow — the largest pep rally at Florida State and one of FSU's longest running traditions — is emceed by Gene Deckerhoff, the voice of the Seminoles, and includes appearances by the FSU Marching Chiefs, FSU Flying High Circus, FSU Cheerleaders, and FSU Golden Girls among other student performances, and the crowning of the Homecoming Chief and Princess. Pow Wow culminates with a featured comedian. Past performers include Whitney Cummings, Amy Schumer, Jimmy Fallon, Stephen Colbert, Kathy Griffin, Nick Offerman, Kenan Thompson, and John Oliver.
Become a fan and follow the Donald L. Tucker Civic Center on Facebook at http://www.facebook.com/FSUTuckerCenter and on Twitter at http://www.twitter.com/FSUTuckerCenter for special sneak peeks and daily updates. Check out the Tucker Civic Center online at www.TuckerCivicCenter.com.
About FSU Homecoming
Every year, the Florida State University community comes together to celebrate one of the most anticipated weeks of the fall semester—FSU Homecoming. Alongside enthusiastic students are faculty, staff, alumni, and community members who celebrate Florida State University's rich traditions and excellence. The first Homecoming was held on December 3-4, 1948, and consisted of events on Friday and Saturday night. Throughout the late 90′s and early 21st century Homecoming expanded to include Skit Night and Warchant, a concert held in the Donald L. Tucker Civic Center, attracting over 8,000 students, faculty, alumni, and community members to see nationally recognized headlining acts. Past performers include Chance the Rapper, Zac Brown Band, Florida Georgia Line, Ludacris, T.I., Pitbull, and Gym Class Heroes. FSU Homecoming is now a full week of events including Spear-It Night, Karaoke for a Cause, Torch Pursuit, Seminole Festival, Parade, Pow Wow, and Jimbo's True Seminole Tailgate. FSU Homecoming 2017 concludes when Florida State takes on the Hornets of Delaware State for the Homecoming football game.