Get Ready for the Best
2021 Best of Tallahassee awards commence via broadcast on Thursday, Oct. 28 at 6:30 p.m.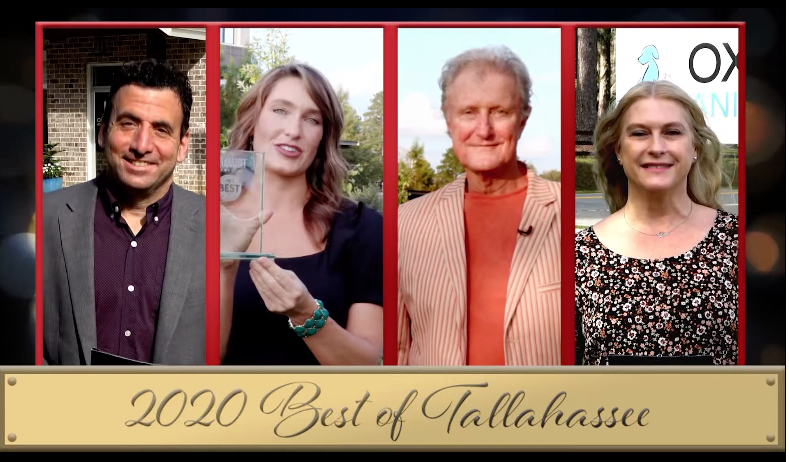 For 21 of the event's 23 years, the Best of Tallahassee awards have been an in-person community event, highly anticipated and attended. As a broadcasted event in 2020 and 2021, the anticipation has been matched and the attendance even higher.
Gather your family together on your coziest couch or throw a party with your favorite friends to watch as the best in business are honored during the 2021 Best of Tallahassee event. Turn your televisions to Fox 49 for the Live in Tallahassee show on Oct. 28, 2021, at 6:30 p.m., and watch as we honor the winners and honorable mentions from more than 100 categories during this hour-long program.
Each year, these winners reflect the business establishments that serve our favorite meals, provide the highest quality of health care, dress us in the latest fashions, manage our finances and provide every other service that makes life in the Capital City the best. Categories include services, entertainment, food and beverage, and shopping.
"It is our honor to celebrate the top two in each category that our community voted as 'best,' " said McKenzie Burleigh, associate publisher of Tallahassee Magazine. "Last year taught us a valuable lesson, and it made us really understand the impact each of these businesses make especially in our day-to-day lives. Something as simple as a small chat with your local coffee shop's barista or the impeccable service from your local eatery can positively affect your day or week. The winners deserve to be celebrated each year, but this year just feels a little different and a little more meaningful."
Audience members will follow along as the hosts, Tallahassee Magazine and Joel Silver, surprise eight veteran or first-time winners by showing up at their business and capturing their reactions as they are presented with their award.
The full list of winners will also be revealed in the November/December issue of Tallahassee Magazine and online at TallahasseeMagazine.com.
Throughout the program, a QR code will appear on the screen. There, viewers can enter a contest to win gift baskets filled with products and gift cards donated from winning and runner-up businesses. Over $4,000 has been donated for the baskets, which will go to four lucky winners. The winners will be notified via email where to receive their baskets, which contain approximately $1,000 in prizes.
Viewers are encouraged to host watch parties, dress up, drink, dine and celebrate in true "Best of" fashion. To show others how you celebrate, and for a chance to be featured on Tallahassee Magazine's social media, tag @tallahasseemag and use the hashtag #BestOfTally.
Televised and free this year, this event will reach a bigger audience than ever before. Although the event is not ticketed, Tallahassee community members are still encouraged to donate, and this year's event will benefit the Junior League of Tallahassee.
"Now more than ever, the people in need in our community need us," said Burleigh. "If you can even spare $1, those dollars add up and make a huge impact to the mission of the Junior League of Tallahassee, which improves the lives of children and families."
The 2021 event is made possible by our generous sponsors: Presenting Sponsor — Ox Bottom Animal Hospital, John Gandy Events, University Center Club, Adams Radio Group, Redwire, Live In Tallahassee, and The Greg Tish Show.
See below for a full list of businesses that contributed to the prize packages:
A Country Rose Florist — Two dough-bowl candles and a $50 gift certificate
AMWAT Moving Warehousing Storage — Five AMWAT Moving-branded T-shirts
Benson's Heating & Air Conditioning — Cooler bag with two Tervis tumbler cups
Black Fig — Gift card
Bowden's Carpet Cleaning, Inc. — Gift certificate for carpet cleaning
Big Easy Snowballs — Gift card
Chelsea Salon & Spa — Gift certificate for a 60-minute facial
Drip Drop Fitness — Two-week unlimited pass
ETWC FOX49 — Three $100 Fun Station gift cards
Fasig Brooks Law Offices — SWAG bag and a $50 gift card
FASTSIGNS — Gift Certificate for $500 to FASTSIGNS for any "in-house" signage solution, plus FASTSIGNS circular decals for the "best of" winners.
Hummingbird Wine Bar — Gift card
Island Wing Company, Rock n Roll Sushi, & Tropical Smoothie Café — Free food item cards for each store.
Junior League of Tallahassee ­ — Cookbook and koozies
Medical Healing Center LLC — Gift cards for IVs, supplements and Prolozone
Narcissus — Earrings and a scarf
Nic's Toggery — Custom shirt valued at $158
North Florida Spine and Wellness — Chiropractic exam and 1-hour massage
Smith Family Chiropractic — Health selfie, which includes an in-depth consultation, specific chiropractic, orthopedic and neurological testing, physical exam for possible nerve-related damage, trigger point screening for areas of tension, digital range of motion testing, postural evaluation with bilateral weight scale analysis, up to six films if needed, and report of findings with recommendations.
Tallahassee Museum — Four general admission passes (to be used in one package)
The Gem Collection — Gift card
Westminster Oaks — Gift basket