GBGH Brings New Style to Tallahassee Living
Heads are turning to see GBGH Construction's latest residential projects in Tallahassee.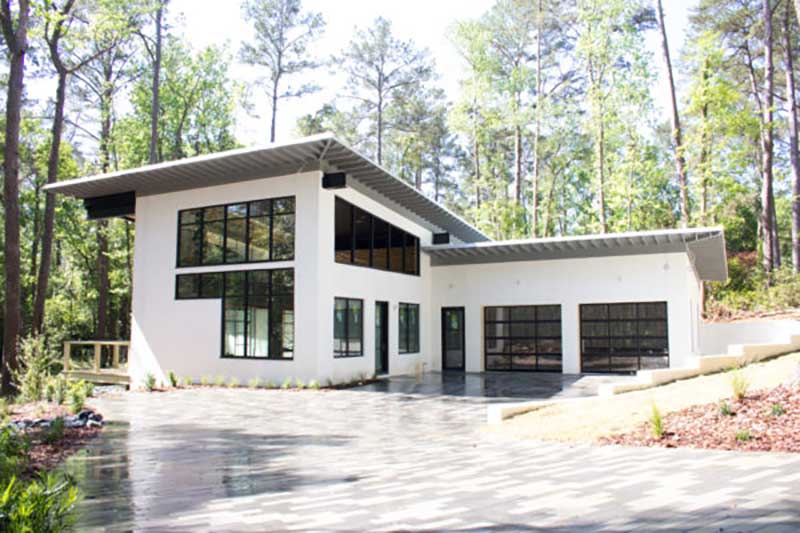 Nestled on the quiet corner of Middlebrooks Circle and Piedmont Drive is the award-winning, ultra-modern home built by GBGH Construction.
Large windows, clean lines, polished concrete floors, copious natural lighting and tall, majestic ceilings await the future occupants of this unique habitat.
GBGH's Middlebrooks home features concrete exterior walls, automated lighting controls, standing seam metal roofing and many other energy efficient innovations that builder Matt McHaffie is known for.
Winner of the 2018 Tallahassee Board of Realtor's Parade of Homes Gold Award and the Realtor's Choice award for homes $720,000 and up, the home at 719 Middlebrooks Circle is sensational and showcases the builder's creativity and passion for simplicity and design.
Nearby, GBGH recently completed a second residence — a seven-bedroom, 7.5-bathroom luxury home with a pool, state-of-the-art automation and appliances, a three-car garage and a studio apartment. This home, like all built by GBGH, features high-quality, energy-efficient components and creative elements that make it a work of art.
Matt selected glass and metal trimmed front doors and garage doors for a sophisticated modern look, complemented by aesthetic features, including a breezeway planter and polished concrete basement floors. The interior finishes are rich, wide plank wood floors, a waterfall countertop on an oversized kitchen island and stone-tiled bathrooms.
Conveniently located within minutes of Whole Foods, Trader Joes, Fresh Market, and Publix, coffee shops, restaurants, Maclay state gardens, fitness centers, and boutiques, these homes offer great value for the lifestyle upgrades that will be enjoyed by their future owners. Both homes are currently for sale.
GBGH Construction is a Tallahassee-based, commercial and residential building contractor owned by Matt McHaffie. GBGH specializes in development and urban in-fill while striving to  bolster the local economy.
Matt and his team are passionate about innovation, energy efficiency and sustainable design. GBGH builds homes with high-quality products featuring simple, clean designs and minimal maintenance to simplify life.
Photos and information about these homes and more can be found here.
719 Middlebrooks Circle in Tallahassee is offered by Stephanie Eldridge of the Eldridge Home Team with Keller Williams Realty at (850) 251-3567.  
1130 Carriage Road in Tallahassee is offered by Kevin Davis, Broker Associate and Luxury Homes Specialist at The Naumann Group Real Estate at (850) 545-7244.