From Your Tap to the TAPP
Tallahassee aims to keep the best water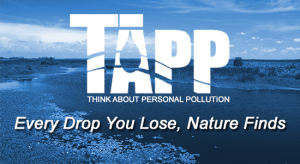 It covers 70 percent of the Earth's surface and helps plants grow. Children love splashing in it, it keeps us clean and after a sweltering day we crave an ice-cold glass of it. In case you haven't guessed, "it" is water, the world's most valuable resource. And Tallahassee's has been honored as the best drinking water in Florida.
Water will always be in demand, will never go out of style and is essential to all life forms. And to keep our community's water quality standards top-notch, the City of Tallahassee's Think About Personal Pollution (TAPP) program was implemented to keep our water and environment pollution free.
The program recently launched the TAPP mobile app, which provides educational materials, how-to tips and event calendars. An interactive program allows the community to view presentations made by local leaders and civic groups and then ask questions or leave comments through the app, which connects to all major social media platforms.
"The tap app will put the power to prevent personal pollution in the hands of local residents," said Venus Childs, Environmental Policy and Energy Resources administrative services manager.
The TAPP app is available at www.tappwaterapp.com. Download it now and do your part in keeping Tallahassee's water the best in the state to sip.