Freeman/Odeneal Wedding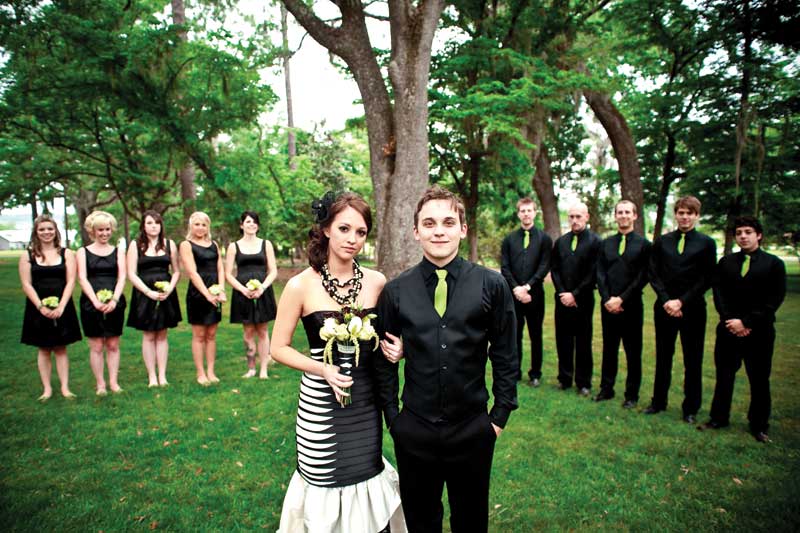 Amy Freeman and Reed Odeneal'I Dos' with the Environment in MindAmy Freeman and Reed OdenealBy Tori GibbsClick for slideshow
Lately it seems as though everyone is going "green." From paperless bank statements to compact fluorescent light bulbs and reusable shopping bags, people are doing their part to live in a more environmentally sustainable manner. Amy Freeman and Reed Odeneal took things a step further by planning a "sustainable wedding" using as many eco-friendly items as possible.
Freeman made the invitations and envelopes by hand from wildflower seed-infused paper and vegetable-based ink — the idea being that guests could plant their invitations in a garden, where they would bloom and break down into nutrients. Guests also were asked to RSVP to the couple's wedding via website or by phone, thereby eliminating paper waste.
The pair even made use of the invitations in the wedding ceremony itself.
"In lieu of lighting a unity candle at the ceremony, we planted one of our wedding invitations, which will grow into flowers for us to enjoy," Amy says.
The wedding reception featured biodegradable dinnerware, including plates made from renewable sugarcane, and cups and drink stirrers made from corn plastic. Even the beer was home-brewed by the groom and best man using recyclable glass bottles.
To get guests in on their project, the couple challenged wedding-goers to get creative with gift-wrapping.
"Some used newspaper; one even used toilet paper," Amy says. "One used moss and a fallen twig to make a bird's nest and set a handmade note inside."
Finally, the bride and groom were sent off with an old but certainly eco-friendly tradition: Guests showered them with birdseed (out of small biodegradable bags, of course).
"At the end of the day, everything really did come out perfectly," Amy says. "Our wedding represented our commitment to each other as well as our commitment to the environment."
Photography Lance Crawford
Bridesmaids' Dresses Dillard's
Formal Wear Dillard's
Music/Entertainment Zach Bartholomew Trio
Catering Laurie Russell
Bar Service On The Rocks
Flowers Flowers by Vince
Wedding/Engagement Rings titaniumrings.com
Hair/Makeup Services (hair) Claire Phillips, Envy Salon & Spa (makeup) Lydia Fillmon, MAC Reception Venue  SouthWood House
Rental Company Party, Party, Party
Printing Durra Print