Deck Your Halls with Helpers
Decorating services make the holidays less hectic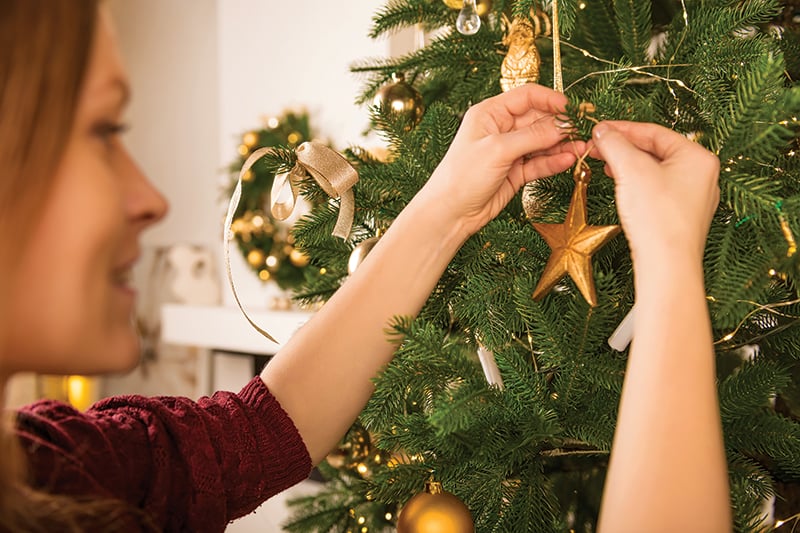 Ah, the holidays, the most wonderful time of the year. Until you remember the in-laws arrive in three weeks, your shopping list is nowhere near completed, the kids have multiple Christmas plays, you haven't thought about a holiday menu, you have a huge client meeting approaching, and the ornaments are still covered in dust in the attic.
While the holidays are merry and bright, they can also be hectic and harried. You want to be present in the spirit of the season, but the list of holiday tasks and happenings keep piling up, heavier than Santa's sleigh. Fortunately, there are design and décor services throughout Tallahassee that alleviate some of the stress.
Whether you're a busy business owner who doesn't have the time to decorate, a senior citizen who can't deck their tree or someone who's hosting a holiday party but doesn't know where to begin, decorating professionals are prepared to meet all needs.
"We provide the convenience of easing your worries," Hurtis Amerson, lead designer at Esposito Garden Center, said. "We deck your halls, put ornaments on your tree, light up the inside and outside, all so you can come home and enjoy it."
The holidays are when Esposito's truly gets to shine, offering both indoor and outdoor holiday decorating services. Indoor services include tree installation, ornament hanging, garland, wreaths and more. Outdoor services involve a lighting crew that hangs lights or their signature lighted spheres in a selection of five sizes.
The Esposito Christmas shop, a treasure trove of over 10,000 ornaments, opens in August. Their fresh-cut Christmas trees are available by early November. You can either use your own décor and tree or stop by the garden center to select.
Tree offerings range from 4–15 feet in Fraser, Noble and Nordmann firs. Customers can select their own trees or provide tree specifications to the team that will deliver the tree to the home or business.
Commonly, the biggest headache for holiday decorators is outdoor lighting — the endless detangling, dead bulbs and dangerous heights atop a wobbly ladder. The Esposito lighting team offers over 30 different styles and colors of lights.
Appointments book early, spanning throughout the fall to days before Christmas. The services and styles you're seeking can be taken at the store, over the phone or by meeting at your home. Once the holidays are over, the team returns for removal.
Elder Care Services Inc. is a resource specifically for seniors. Their in-home services do not include installing outdoor lights or trees, but simple decorating and housekeeping are available. Another service offered is Elder Elf, a program where local businesses and individuals can fulfill the holiday wish list of a senior. Often this includes holiday decorations and treats.
NEAT Interiors & Design offers a full collection of holiday décor and decorating services for holiday entertaining. They also collaborate with Ed Blissard, a landscape artist noted for using electric outdoor décor.
"Our clients often work with us to come up with a look for their holiday décor that complements or completes the look and feel of their family traditions," Darcia Smith, co-founder of NEAT, said. "For these clients, we custom order décor and help create a plan to bring their vision forward."
For the party planner, NEAT specializes in tablescapes for holiday gatherings from linens, tableware, glassware, candles, ribbons, ornaments and more.
John Gandy Events works on a larger scale, providing design as well as installation services. The process begins by meeting on-site to discuss the space possibilities, your vision and your budget. From there, a mood board is put together to ensure a cohesive design.
"Hiring our team allows you to enjoy the process and celebrate the season," John Gandy, owner of John Gandy Events, said. "We allow for a unique vision and offer up a variety of themes and decor for your celebration."
During the holidays, you don't have to do it all yourself. Hire a professional to assist with your holiday decorating so you can be fully present for other holiday gatherings and festivities.
---
2022 Holiday Trends