Cupcakes, Bangles and Boweties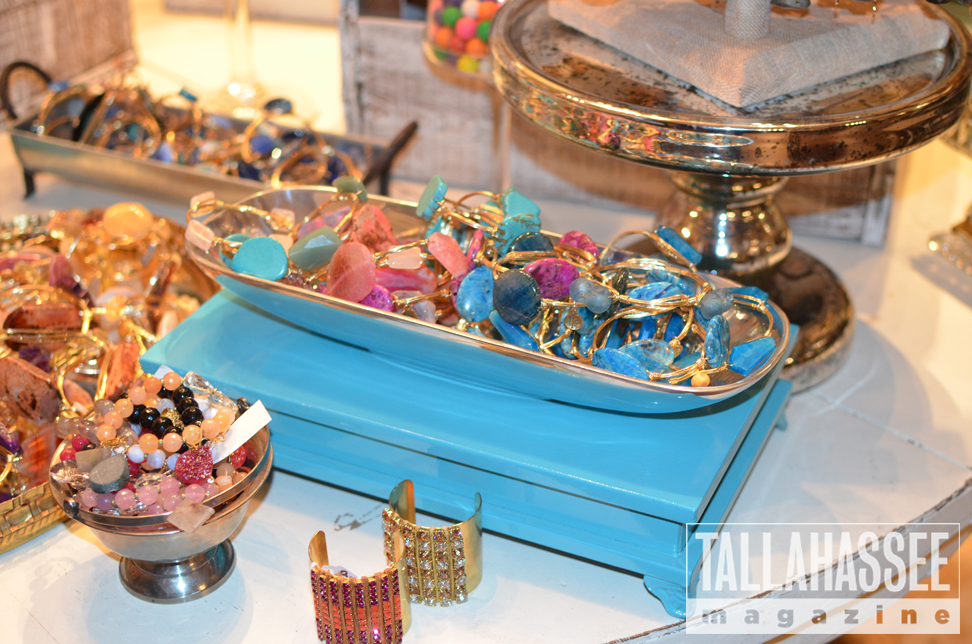 The hours that I have spent perusing the racks at Cole Couture are innumerable; I visit, at the very least, once a week. The clothes, the Candy Bar and the jewelry …. Be still my beating heart! The girls are so helpful and incredibly friendly. When Carrie McNeill is in the store, she always says "Hello," and stops to chat even if I look completely disheveled and worse for wear after the gym. I had visited once or twice at their previous location near Betton Hills, but immediately fell head over heels in love with their store when it moved to Sixth and Thomasville. The love grew as soon as they began carrying Michael Kors timepieces. I may have purchased a few — or five.
This past month, a new designer has been gracing the bubble gum-filled trays at the Candy Bar. Carley Ochs, owner and creator of Bourbon and Boweties, designs handmade bracelets that everyone seems to go crazy over. Carley visited Cole Couture for a meet and greet and the turnout exceeded expectations. Carley seemed right at home chatting with customers while twisting and molding individualized bracelets. After the crowd died down, she sat with me — and made me an adorable bracelet.
Local is something Cole Couture believes in and Carley is the perfect match, touting a brand made with "Proud Southern Hands." The first wrist-sizing tool she used was a red Solo cup and the most in-demand item of the night was a bracelet made with Indian Head coins resembling the FSU Seminole logo. A graduate of the Florida State University (Go Noles!), Carley uses inspiration found from her surroundings, family and friends. Her future plans include another stone sourcing trip in China and breaking into the necklace market.
The most interesting part of the night was the loyal fans and customers who came out in droves. Mixing two well-loved brands for a night filled with cupcakes, wine and jewelry is the perfect recipe for success. I wait with baited breath to see the next hot brand Cole Couture brings to Tallahassee — and I know I'm not alone.