COCA Presents – Many Voices, One Heart: Paintings by Terrie Corbett
On display at the Artport Gallery from Aug. 12 – Oct. 26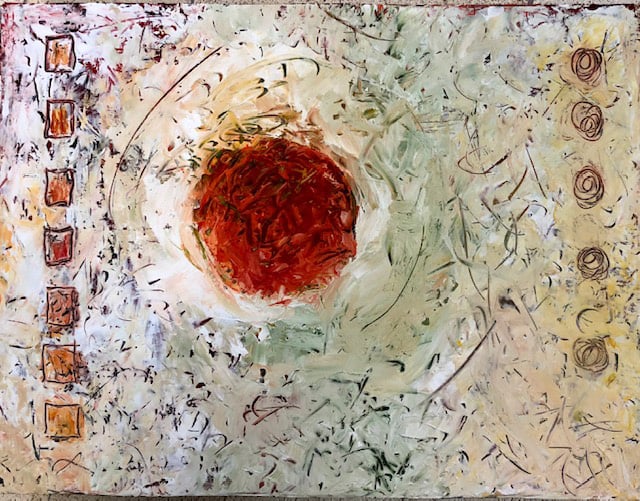 The Council on Culture & Arts is pleased to present "Many Voices, One Heart: Paintings by Terrie Corbett" on display at the Artport Gallery from Aug. 12 – Oct. 26
"I love to paint! I love the way it feels, the way it moves, the way it caresses a surface," said Terrie Corbett. The Tallahassee artist uses traditional painting and drawing techniques combined with personal mark-making to create her artworks. The expressive paintings are non-objective or abstract and her inspiration comes from her experiences and feelings.
Corbett is an artist with significant range, working in a wide variety of media. This exhibition features her encaustic paintings. Encaustic is an ancient technique that uses beeswax as a carrier for color. Pigment is added to melted wax, creating a moldable paint. The mixture can be applied to a surface creating transparent hues which are layered on top of one another. Each layer must be reheated to fuse it to the previous layer.
Corbett's paintings include both cold and hot wax techniques. In her oil paintings, she uses cold wax which has a thick consistency. It offers a matte finish, is great for glazing, and can produce a nice surface texture when desired. Encaustic is a slow, difficult technique. Layers are built up in relief to create a luminous optical effect. Because wax is used as the pigment binder, encaustics can be sculpted as well as painted. Metal tools and special brushes can be used to shape the paint before it cools, or heated metal tools can be used to manipulate the wax once it has cooled onto the surface.
Corbett takes full advantage of the medium's unique qualities which lend themselves to her exuberant use of color, composition, rhythm, and texture. "I enjoy challenging the rules, the materials, and the processes," she said. "I experiment with a variety of non-traditional tools while adding and subtracting pigments, paper, oil stick, graphite, and pan pastel. I think of my process as 'making a painting' rather than painting. The process is not unlike a visual jazz in that each stroke elicits the next as layer after layer is applied to, or taken away from, a substrate until the painting reveals itself."
Corbett has exhibited her artwork widely and was a longtime member of the Artists' League for the Florida State University Museum of Fine Arts as well as many other local and regional artist's groups. She has served as an artist liaison on the Florida Committee for the National Museum of Women in the Arts. She has also curated, mounted, and coordinated several exhibitions for regional art venues. Her work has been widely praised and is included in numerous permanent collections, both public and private.
This exhibition will be on view at the Artport Gallery through Oct. 26. Please wear a mask and practice social distancing when visiting the gallery. To see a digital version of this exhibit, visit
COCA's Online Gallery at cocaonlinegallery.zenfolio.com.
This is one of many rotating exhibitions curated by the Council on Culture & Arts on behalf of the City of Tallahassee as part of the Art in Public Places program. The Artport Gallery itself is located in the Tallahassee International Airport, 3300 Capital Circle SW, and is open daily from 8:00 am until 11:30 pm. The first 30 minutes of parking is free for both the short-term parking lot. For more information about this exhibition or upcoming exhibitions, visit tallahasseearts.org.
About COCA
The Council on Culture & Arts is a non-profit organization that serves as a catalyst for development and support of arts and culture in Florida's capital region. For more information about the services and resources that COCA provides, please visit www.tallahasseearts.org or call 850-224-2500 or email info@tallahasseearts.org.