Clements/Rio Wedding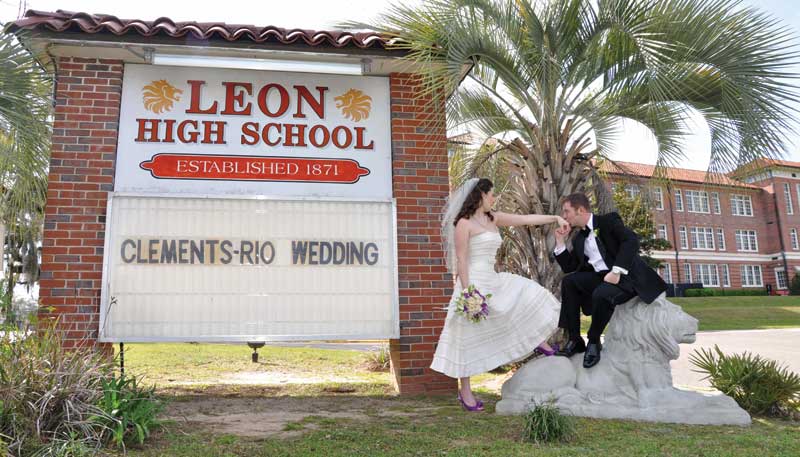 Claire Clements and Brian RioStrike Up the Band, It's a High School WeddingBy Lilly RockwellClick for slideshow
Brian Rio and Claire Clements shared their first kiss as a married couple on the stage at Leon High School, a fitting moment for a couple that met while attending the school in 1991. The two had dated on and off since high school and always maintained a friendship despite hectic careers that had them living in different cities.
Brian, an Emmy Award-winning sound designer, and Claire, an event planner, now live in Atlanta. But both agreed after getting engaged in July 2009 that the wedding should be in Tallahassee.
"Each wedding is a representation of the couple," Claire said. "I've always appreciated that about weddings, those personal details." For the couple, getting married at their old high school and having the Marching Chiefs play Billy Idol's "White Wedding" after their first kiss was the perfect way to showcase their story.
"We were both from Tallahassee and we were huge Florida State fans," Brian says.
Claire hired local event planner John Gandy to help plot her big day, and with a guest list of 400 people, the couple wanted to make sure each guest felt included.
"My goal was to have a large wedding where it still felt personal and intimate," Claire explains.
They found ways to incorporate their love for one another in small details, such as letting guests shower them with dried rose petals that came from fresh flowers Brian had once given to Claire as gifts. Their reception, at Los Robles Woman's Club, was nostalgic for the couple because they had attended dances and proms there.
The couple even let guests vote on their honeymoon destination, choosing between Amelia Island, Palm Beach, Key Biscayne or New Orleans. Guests chose Palm Beach, which Claire confides they were hoping would be the final pick.
"My favorite moment was the ceremony," Brian says. "Walking out of Leon and realizing, 'Wow, we really pulled off this wonderful wedding, it worked!'"
Coordinator/Designer/Planner John Gandy Events
Candy Buffet/Lighting/Chiavari Ballroom Chairs/Lounge Furniture/Lawn Games of Bocce and Croquet and All Reception Décor John Gandy Events
Florist/Designer Flowers by Missy Gunnels
Videographer Unique Video Creations
Wedding Cake Linda Rodin
Catering Klassic Katering, Karen Chapman
Bartending On The Rocks!, Chris Geib
Rentals  In Tents Events
Linens Silver Lining Linens, Terri Gross
Photographer McGinnis Leathers Photography, Athens, Ga.
Ceremony Music  Danny Keasler String Quartet (ceremony), Marching Chiefs (following ceremony)
Reception Music City Heat, Atlanta