Catch a Rising Tennis Star at Tallahassee Futures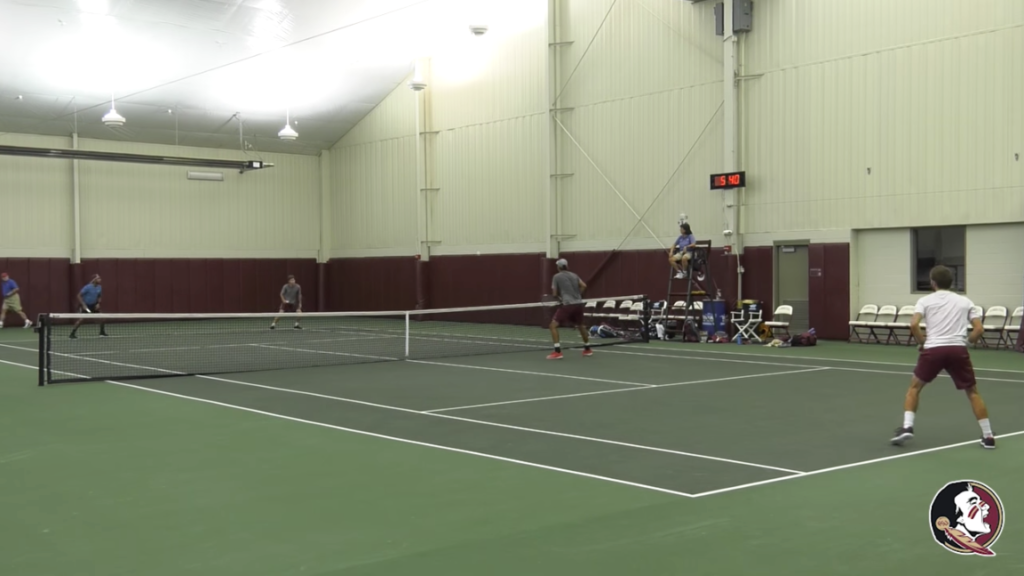 The Tallahassee Futures presented by Visit Tallahassee continues to be played through this Sunday at the Florida State Indoor Tennis Courts. The main draw began Tuesday. The Futures event is part of the USTA Collegiate Series, which is a series of pro circuit tournaments hosted at universities across the country. The 2017 Tallahassee Futures marks the third straight year that Florida State has teamed up with the USTA to be a part of the Collegiate series.
The event has been host to some of the top up-and-coming players in the United States, college and from around the world. Dennis Shapovalov, ranked No. 51 in the world, was a participant in the 2015 Futures event and last year's champion, Canadian Brayden Schnur, is currently ranked No. 197. This year's tournament will have players ranked as high as 270.
The Florida State men's tennis team will have eight participants in this year's tournament, including Guy Iradukunda of Florida State who qualified for the main draw and will not have to go through qualifying. The rest of the team will begin competition on Friday in the qualifying round. Incoming Seminole Sebastian Arcila as well associate head coach Ryler DeHeart will be competing alongside, Terrance and Terrell Whitehurst, Jose Gracia, Lucas Poullain, Alex Knaff, Rana-Roop Singh Bhullar and Chase Wood.
"I always look forward to this event every year" said Florida State head coach Dwayne Hultquist. "It is a great way for our players to finish off the fall season and get ready for the spring dual match season. We are one of a few schools in the country that will host one of these events and it has been a great way for our guys to jump start their professional careers while still in college."
Last year's Tallahassee Futures event featured seven current and former Seminoles in the singles main draw. Poullain and Iradukunda both advanced to the second round of the main draw before getting knocked out of the tournament. Canadian and former North Carolina Tar Heel Brayden Schnur, who currently ranks No. 197 in the world, went on to win the singles bracket. Florida State had four doubles pairs in the main draw as well. Seminoles Guy Iradukunda and Aziz Dougaz teamed up to make it all the way to the finals before losing to Americans Robert Galloway and Nathaniel Lammons, who rank No. 330 and 202 respectively.
This year's tournament does not lack any talent and looks to bring valuable professional tennis experience to up-and-coming players as well as some of the top collegiate players in the country. There is a chance to pay $100 for a clinic, dinner and drinks on the court for the featured match of the evening for two people. The Florida State Indoor Tennis Courts are located at 2566 Pottsdamer Road.
For more information contact Scott Mottice at smottice@fsu.edu.