North Florida Locals Share Their Fly Fishing Passions
All are welcome, young and old, to learn from the intricate details of these anglers.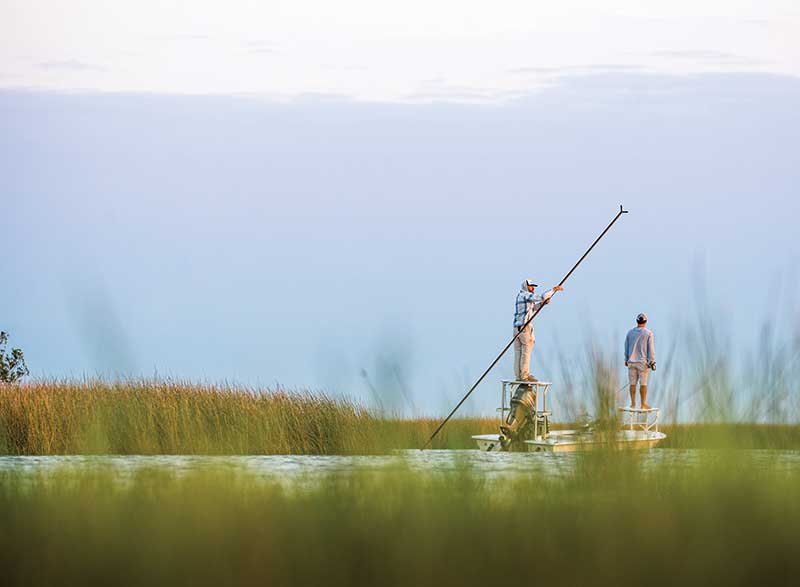 Among people who tie flies with which to fool fish, those who pursue their quarry in salt water are impressionists.
Those who favor sweet water aren't photorealists, certainly, but they are more literal than the fishers who have to rinse the boat off after every use.
They are watercolorists, more so.
Capt. David Mangum falls into the former category. He owns and operates a guide service, Shallow Water Expeditions, that he operates from his home in Santa Rosa Beach. Fifteen guides are associated with the enterprise. Mangum specializes in targeting tarpon — the so-called silver king — a fish best taken on flies.
Tom Logan, of Tallahassee, fishes for bream and bass on the Wacissa River, the upper reaches of the St. Marks River, and lakes Miccosukee, Talquin and Hall.
He teaches fly tying and fly casting, fishes from a gheenoe (a square-backed canoe with a small outboard) and operates a one-man guide service, North Florida Fly Fishing Adventures, that gets frisky each summer and makes a trout trip to the Green River in Wyoming.
There was a time when Mangum, who looks like he may have escaped the pages of an Orvis catalog, tied show-piece flies — contemporary Atlantic salmon flies with ingredients including golden pheasant feathers — that he never intended to fish. But these days, most everything Mangum ties is for work.
"I've got to have bullets for my gun," Mangum said.
Friends at the University of Texas in Austin got Mangum started tying flies before Mangum got gone. He wasn't in Texas for long before he moved to Alaska and started a guiding career that would carry him to Colorado, Puerto Rico and the Bahamas before he returned to his native Florida Panhandle.
For 120 or so days each year beginning in April, Mangum focuses exclusively on tarpon, fishing with repeat customers who are all accomplished fly fishers. His client list is impressive, including the owners of Orvis, now that you mention it, Simms fishing products, Costa eyewear and YETI coolers. The rest of the year, redfish pay the bills.
Mangum has been fishing for tarpon in North Florida since 1990, long before most area anglers were even aware that the bruising, leaping fish usually associated with the Florida Keys were seasonal residents. He graduated from Fort Walton Beach High School.
His father was a wing commander at Eglin Air Force Base and was Mangum's first fishing mentor, but one whose development as an angler was arrested at a point that Mangum soon surpassed. Dad was a fly fisher, but one content to buy fiberglass rods and automatic reels at Kmart.
For Mangum, fly fishing is like bow hunting. Some people are content to fish with spinning gear or harvest deer with 200-yard shots from rifles. Others move on to more refined approaches.
Mangum ties flies left-handed, purely because the first time he sat down at a vice, it was oriented that way. He uses synthetic materials primarily and introduces a bit of flash to most of his patterns.
He has developed and named a few patterns that are marketed commercially, including The Dragon, inspired by an undulating fuzzy children's toy that looks like something you might torment a cat with.
"Fishing in saltwater is not like trout fishing, where you are trying to match the hatch," Mangum said. "The profile of a saltwater fly may resemble a baitfish or a crab but not all that closely. There are no chartreuse baitfish out there. Hook size and weight can be the most important considerations, along with color."
Mangum will choose a dark fly or a light fly as a function of water clarity and sky conditions. Contrast is key. In very clear water, he is likely to use black flies.
"I fish in the dirtiest water I can find and still see the fish," Mangum explained. "I don't want to have to try to talk a fish into biting. I want to be in control by capitalizing on the instincts of the fish.
"Place the fly where the fish is going to run into it. Wait until he gets very close to the fly and then move it just a little tiny bit. That's enough to trigger a reaction strike."
Mangum has learned that a tarpon in gin-clear water is not thinking about eating. Everything that he might want to eat sees him coming. But tarpon are conditioned to make quick decisions in discolored water.
For Mangum, an average tarpon runs 100 pounds. He led clients to 185-pounders in 2015 and 2016.
When Mangum first started focusing on tarpon, he spent most of his time at Crooked Island Sound in Bay County. He has since moved on to other waters that have become his favorites.
More on that later.
Freshwater angler Logan grew up in Oklahoma where he fished farm ponds with his father and a grandfather.
He went to Oklahoma State and went to work as a wildlife biologist and researcher at the Oklahoma Department of Wildlife Conservation, then worked for the Audubon Society as an assistant director of sanctuaries.
He moved to Florida upon accepting a job as chief researcher for the Game and Fresh Water Fish Commission. Most of his work there concerned endangered species and the Florida panther, in particular.
While Logan's father had fly fished some, he never encouraged his son to do so. Logan got into the sport in earnest in the early 1990s after taking a Tallahassee Parks and Recreation Department-offered class that his wife saw listed in an advertisement in the Tallahassee Democrat.
He got involved in Fly Fishers International (then the Federation of Fly Fishers), which he currently serves as a senior advisor and chairman of the board of directors.
And he had some fine mentors, notably Tom Broderidge, a one-time editor with the Florida Bar. Broderidge married a woman from Ireland and eventually moved across the pond to an isle noted for its trout streams.
Logan, owing to his closeness to the natural world, is a fly-tying purist who spurns synthetic materials and refrains from tying popping bugs with their foam plastic heads.
Like Mangum, he has invented several patterns that now bear his name, but he finds distinct pleasure in tying traditional patterns that have been around for hundreds of years.
"My students often start out by talking about bass flies versus bream flies and trout flies and I beat it into them that there is no such thing," Logan said. "What we are doing is tying imitations of natural fish food. Fish worldwide eat aquatic insects and that's the reason that a pattern developed for brown trout 400 years ago is a killer for bream today."
Logan is on the pro team for Whiting Farms in Delta, Colorado, the world's premier supplier of hackles for tying flies.
"They provide me with materials that I experiment with and a pattern may just happen," Logan has found. "But mostly, I like to tie the traditional, historic patterns. This morning, I fished an Irish Invicta on the St. Marks River. It was developed 200 years ago in Ireland for brown trout, but I take a lot of fish on it."
Indeed, in a few hours, Logan landed one or more bluegill, redbreast sunfish, spotted sunfish, stumpknockers, red-ear sunfish and Suwannee bass.
Logan's favorite fly is the Western coachman, designed by Buz Buszek of Visalia, California, along about 1940. While it was designed for taking rainbow and brown trout in the King's River east of Fresno, Logan has caught on the Western coachman at least one of every freshwater species he has ever caught on a fly.
No surprise, Logan applies a lot of science to his fishing.
"Predators have to consume more energy than they expend so they have to be selective about what they eat," Logan turned professorial. "The food must be abundant and readily available. Aquatic insects — think about a mayfly — are most abundant as eggs. Immatures crawl around on rocks and go through molts as they get ready to become adults and then they emerge."
At the surface, the mayflies' wings dry out, they take to the air, mating occurs and the females come back and drop the eggs in the water. But there are many more eggs and immature adults than there are adults. As the creature moves through life stages and rises through the water column, its numbers decline.
"When they are eggs under the rocks, they are not available to predators, but when they are immatures crawling on the rocks, fish really look for them," Logan said. "That's why beaded nymphs work so well. It's the wet patterns (flies fished beneath the surface) that fish really key on."
"Most freshwater fly fishers in our area use popping bugs and foam spiders most of the time," Logan said. They don't know the biology that underlies his approach.
All good fly tyers are detail oriented who know that how the thread is wrapped on the hook is critically important.
"You need to put one wrap right in front of or behind the other and keep the thread flat on the hook shank," Logan said.
"That's simple for me. I don't even have to look at what I'm doing. But many people just can't do that. Some people want to keep their flies simple and that means they are going to look that way. They say, 'I catch fish on my flies, they just aren't as pretty as Tom's,' and I tell them that I never hunt over an ugly bird dog, either."
On the other hand, Logan readily recalls a precocious student who was the son of a peanut grower.
Logan teaches certain patterns selected for the techniques that are involved. He lets students watch him tie a fly and then, typically, student and teacher tie one together, step by step.
"But this young man, he would watch me tie a fly and then he would tie his own," Logan said.
"He had the ability to watch me tie an entire fly and then duplicate it. Amazing."
Asked to recount the story of a memorable catch, Logan drifts off to Wyoming.
He was fishing Horse Creek when he saw a fish rising under an overhang while remaining in an area about the size of a pie pan.
"I made 12 casts and the fish rose three times, but did not take my fly. Finally, I put the fly right where it needed to be and the fish nailed it. It was one of the biggest cutthroats I've ever caught."
Ask Mangum about his favorite tarpon haunts and, surprisingly, he doesn't hesitate to disclose them.
"There's a little shack down there with tarpon scales on the walls. Not far from …