Capital Veterinary Specialists
Expert care with compassion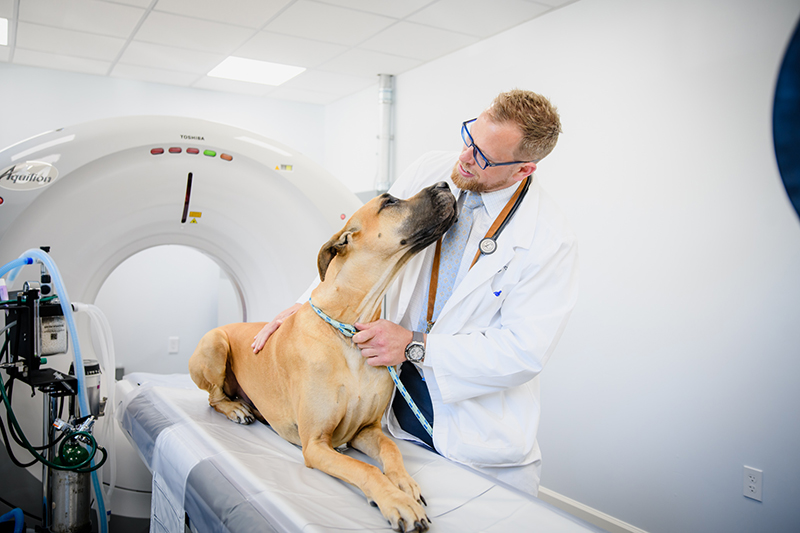 If your pet is ever faced with a complex disease or the prospect of major surgery, your primary concerns are answers and solutions. As the only premier-referral, privately owned hospital within a 400 mile radius of Tallahassee, Capital Veterinary Specialists partners with veterinarians throughout the region to give you those answers and provide the best possible outcomes.
Capital Veterinary Specialists is recognized statewide as a leader at the forefront of veterinary medicine. Their facility provides access to advanced imaging, MRI's, CT scans, major surgery and intensive care hospitalization that previously was only available at the University of Florida or the University of Georgia.
The office began by specializing in surgery, internal medicine, ophthalmology, cardiology, neurology, radiology and critical care. In the last two years, it completed a 6,000-square-foot addition that houses an oncology ward, CT imaging, radiology, 24/7 urgent care, in-house laboratories, an operating suite and an ICU recovery suite.
The Tallahassee location is now 20,000 square feet in size and is located on a two-acre campus. Capital Veterinary Specialists also has a satellite office in Santa Rosa Beach.
"People travel from all over the states of Florida, Georgia and the Carolinas to seek the 24/7 care that we provide because we posses the medical and surgical sophistication to prolong the quality of a pet's life and maximize the quantity of time you have with them," said Dr. Kevin Drygas, DVM, DACVS. "Every pet deserves to enjoy their most full and healthy potential for as long as possible."
Dr. Drygas and his team of over 15 specialized doctors and veterinary staff have more than 50 years of combined experience. To stay on the forefront of veterinary care and state-of-the-art technology, they emphasize continuing education, offering courses to staff, interns, veterinary students and area veterinarians. Serving and working alongside others in the veterinary community is highly important to
Dr. Drygas and his team.
With every case, the business extends thorough communication and genuine compassion to the pet owner. Whether short-term or long-term care, minimal or invasive surgery, the team creates a health plan that is in the best interest of the pet and the owner.
"Your pet is your family and when in our care, they become our family, too," said Dr. Drygas. "You're going to experience expert care and compassionate service whether you're a pet or an owner."
---
1615 Mahan Center Blvd. | (850) 597-9764 | CapVetSpecialists.com
---