Breezy and Strappy
Slide into summer in a pair of sandals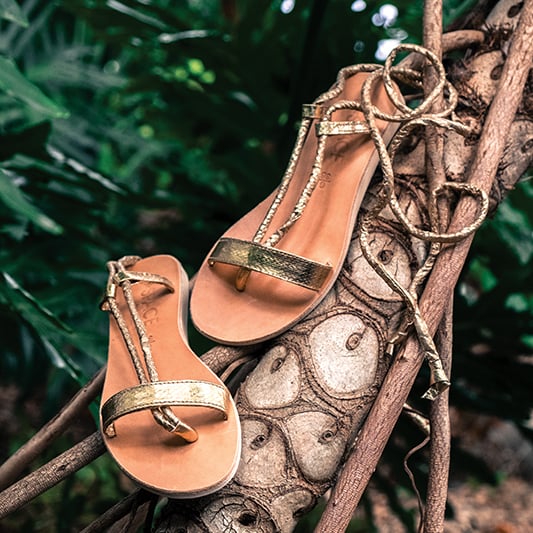 Summer is in full, humid swing, which means it's time to slap on some fresh toenail polish and show off your feet. While sandals, as a style, will never die, there are, in fact, a few sandals that are to die for. So toss out the flip-flops and fill your closet with a few new pairs of fun, sunny sandals.
Do you remember when Birkenstocks were "the thing" back in the '60s? Well, they're back and better than ever. The slip-on cork-and-rubber sandals are perfect for a day out shopping, running errands or at the beach. What would make this sandal better? Anthony Castro, from Tallahassee's Pink Shoe Bag, loves anything metallic. Perched on display in Pink Shoe Bag is a Birkenstock lookalike sandal with metallic straps instead of black or brown — perfect for brightening up your summer.
Another blast from the past that is making a footwear comeback is the comfortable, yet trendy, espadrille. First made fashionable in the 1300s, espadrilles are breezy sandals made from cotton fabric with a rope sole. Traditional espadrilles also cover the toes. If you're longing for a sturdier sandal, espadrilles are definitely a go-to shoe for breezy occasions.
If you're feeling bold, slip on some neutral-colored sandals that feature bright and vibrant pom-poms, tassels or fringes at the toes or ankles (or both!). From a breezy sundress to a simple top with cut-off jean shorts, the boldness of this type of sandal will add just the right amount of "pop" to your outfit.
Carrie McNeill, owner of Elle Market, has noticed quite a few shoe trends that stand out as new or reemerging that are quickly gaining popularity. According to McNeill, sandals are even coming adorned with snakeskin patterns, bows, feathers, ruffles and ribbons. 
"We are seeing everything from suede fringe, pearls and applique embellishments to simple and classic styles, such as nautical stripes," said Juli Downs, owner of Narcissus.
But if your summer outfit calls for something a bit fancier than a flat sandal and more casual than a high heel, McNeill suggests trying out a sandal with a kitten heel, which is a type of heel that is thin and low. Downs shares that the "flatform," which combines comfort and height in a flat sandal with a platform ledge, is on trend.
From breathable footwear featuring laces and cutouts, to strappy, ankle-tie sandals, there's a sandal for everyone this summer. 
---
Nail the Look
With eye-catching sandals on your feet, it's imperative that your pedicure is on point. With each season comes new polish colors to ogle. This summer sizzles with a palette of electric blue (Essie: Butler Please), red coral (OPI: Living on the Bula-Vard!), peachy pink (Chanel Les Vernis: Tulle) and muted metallic (Sally Hansen: Glow with the Flow). The cheery nature of summer makes for the ideal time to experiment with nail art, such as a playful pineapple or a smiling sunshine.