Best of Tallahassee 2014 Recap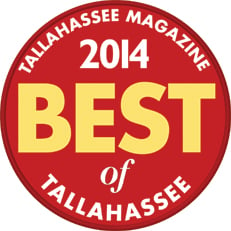 >Oversized red and blue balloons swayed between strings of lights that illuminated the guests who filled the Goodwood Museum and Gardens Carriage House on November 18. The 2014 Best Of Tallahassee event kicked off at 6 p.m. with food being served, drinks flowing and the awards gleaming.
Tallahassee's best marvelled at John Gandy's creative ultra-mod decor, munched on world cuisine from Klassic Katering and mingled with complimentary wine and beer from the Wine Loft. The event was presented by sponsor Tallahassee Memorial Hospital and Vice President and Chief Communications Officer Warren Jones made the opening remarks.
The 100-plus winners, who were selected by the magazine's readers, were presented their awards by Tallahassee Magazine Editor Rosanne Dunkelberger. Each winner received a shining award and had a moment in the spotlight getting their picture taken on stage.
Between award announcements, raffle prizes were given out and four weekend getaways to Sandestin Golf and Beach Resort were auctioned off. The Best Of recipients were congratulated and everyone in attendance was thanked for making a 2014 a great year for Tallahassee Magazine.