And the 2013 Top Salon of Tallahassee is…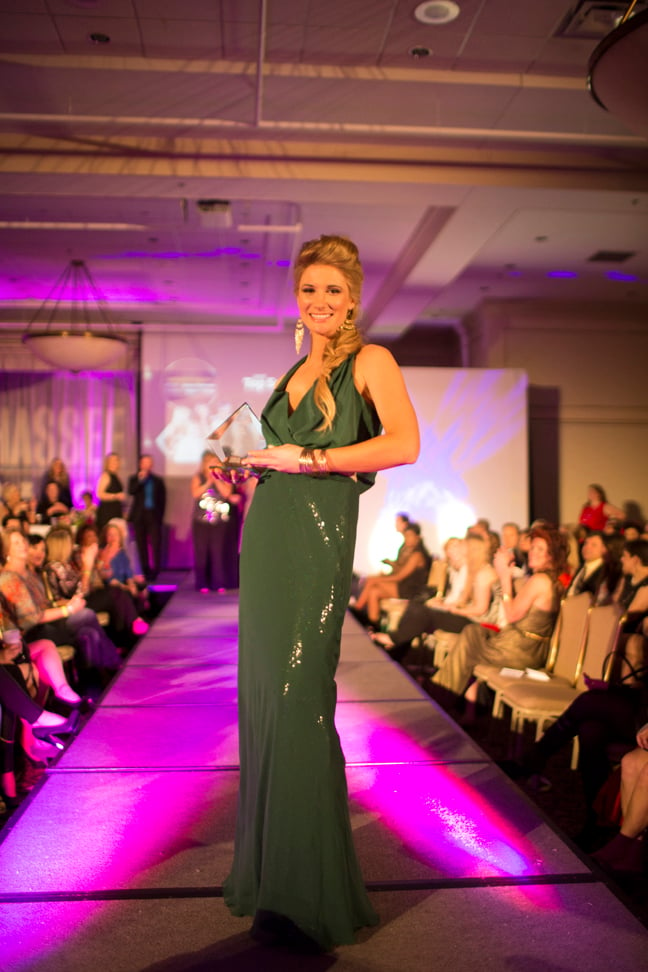 To receive exclusive offers from Tallahassee Magazine and its sponsors, text TMAG to 90947.
It goes without saying that the Top Salon of Tallahassee event held on February 23rd, 2013 hosted by Tallahassee Magazine was a huge success. The 11 most popular salons from the greater Tallahassee area that competed in the contest were: Ardan's Salon, Athena Salon & Spa, Cabello's Hair & Nail Studio, Dream State Salon, Fuel A Salon, Haute Headz Salon, Impressions, JS Hair Lounge, Millenium Nail & Day Spa, So Pure Salon & Spa, and Styles of Elegance. The sold out event brought fierce competitors and revealed some awe inspiring makeovers.
Competing salons choose their own model which they believed deserved a complete makeover. The salons were encouraged to select women (or men) who were hardworking that did not have the time or budget to pamper themselves.
Kenzie Burleigh, a marketing coordinator for the event from Tallahassee Magazine explained that, "the makeovers help the women (or men) feel better about themselves and let them enjoy the spotlight because they deserve it. These models are beautiful inside and out, and deserve to shine."
The before and after unveiling was jaw-dropping and inspirational. The models strutted their new looks on a runway as a picture of their "before" picture was casted on the monitor behind them. The runway show was ranked by a panel of judges, and attendees votes were also calculated to determine which salon should reign as the Top Salon of Tallahassee.
The salon awarded the title of Top Salon will receive an advertising campaign developed by Rowland Publishing, in addition to a year-long campaign in Tallahassee Magazine. Plus, a portion of the proceeds will benefit the winner's charity of choice. Sponsors for this year's event were: Russell B. Rainey, DMD, Tallahassee Plastic Surgery Clinic & Physicians' Skin Care Clinic, Narcissus, ResortQuest by Wyndham, Capital Eurocars, Hotel Duval, Sweat Therapy, F.U.E.L. Nutritional Counseling, Paisley Café, Live in Tallahassee, and The Greg Tish Show.
The winner of this year's Top Salon of Tallahassee 2013 title is….
 Ardan's Salon!
                                 BEFORE                                                                     AFTER
About the Salon
Ardan's Salon is an enchanting salon located in historic midtown Tallahassee. Ardan's Salon is set in a 1920's home, in which the salon exudes elegance and beauty. With modern features and accents, the salon strives to make each of its clients the center of attention. "The first thing that visitors notice is the welcoming ambience that provides not only great services, but a gathering place full of warmth and community."
With an extremely talented staff of stylists spanning all generations, Ardan's Salon is dedicated to giving its clients the look they want. From precision haircuts and colors, to therapeutic massages and waxing, Ardan's salon goes above and beyond in providing a delightful experience for each of its clients during their visit.
About the Model
Model Anna Osborne was deservingly chosen as the best transformation, and Ardan's Salon's charity of choice was Kidz 1st Fund. For several years, Anna worked two jobs, averaging about 70-80 hours per week between the two. She os concurrently working towards a Florida interior designer's license. Anna provides full assistance to her younger sibling in getting through veterinary school and she currently is a volunteer at the local animal shelter.
About the Charity
Kidz1stFund was established by Florida State University head football coach Jimbo Fisher & wife Candi in 2011 after their younger son Ethan was diagnosed with Fanconi anemia. Kidz1stFund provides support to families affected by Fanconi anemia, provides education to raise awareness about this rare disease, and continues to raise money for FA research in the hopes of finding a cure.
Fanconi anemia is an inherited disease that mainly affects the bone marrow, also resulting in a decreased production of all types of blood cells. Those with the condition may suffer from bone marrow failure, organ defects, physical abnormalities, and an increased risk for certain cancers. For more information on the charity as well as the condition itself, please visit: http://www.kidz1stfund.com/ .
The 1st runner up was So Pure Salon & Spa with model Tamara Smith, and 2nd runner up was Cabello's Hair & Nail Studio with Lisa Kraemer. For the complete before-and-after transformation photos for every salon at the event, look for the article in the May/June 2013 issue of Tallahassee Magazine.
We'd like to take the time to thank everyone who came to the event or helped support the event. It would not have been as successful as it was without the talent of all the salons who participated in the event. On behalf of Tallahassee Magazine- thank you everyone!
For more information about Ardan's Salon, please visit their website here: http://www.salontallahassee.com/
Ardan's Salon is open Tuesday-Friday from 9am to 5pm, and from open from 5pm-8pm by appointment only. Saturday hours are 9am to 4pm. To book an appointment online, please click here or call (850) 224-3917. Ardan's Salon is located at 919 N. Monroe St., Tallahassee, Florida, 32303.