An Exquisite Beginning
A Dream Wedding and Honeymoon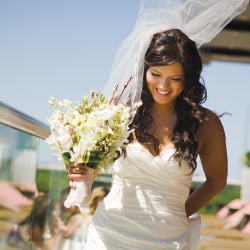 Wedding planning for Alana Chambers and Paul Adrianse did not have an auspicious start. Three months before their original wedding date set for May 2011, Alana's father suffered a serious heart attack and stroke and the couple postponed the ceremony while he recovered.
But their luck turned earlier this year, when the couple was nominated and chosen to receive the first-ever Exquisite Beginnings Wedding Giveaway. Dozens of sponsors donated their time, talents and products to give Alana and Paul everything they would need to create the wedding and honeymoon of their dreams.
Alana's father walked her down the aisle at the Hotel Duval on April 22, 2012. You're invited to come along as we join the lucky couple on their journey to a wonderful wedding day … and beyond.
Paul and Alana's Wedding Day Memories
"When Alana won the wedding giveaway, it was an amazing moment." — Abbie Martin, maid of honor
"Today has been amazing. As soon as we walked into the ceremony, it took my breath away. I love the Japanese touch in the decorations." — Hisako Chambers, Alana's mother
"Alana was the perfect person to win this wedding, because she is the most kind and caring person you could ever meet and someone who deserves nothing but the best." — Abbie Martin, maid of honor
"Alana was the perfect person to win this wedding, because she is the most kind and caring person you could ever meet and someone who deserves nothing but the best." — Abbie Martin, maid of honor
"Since Day 1, this wedding has given Charles the motivation to walk his daughter down the aisle. This feels like a dream come true." — Hisako Chambers, Alana's mother
"It was very touching to see Alana and her father walking down the aisle and dancing together today." — Sean Gray Groomsman
"My favorite moment of today was watching Alana and her father walk down the aisle. We didn't know if he would be able to do it. I had to hold back tears." — Hisako Chambers, Alana's mother
"This whole wedding weekend has been wonderful. Hotel Duval and all those involved truly outdid themselves, and we feel so lucky." — Charles Chambers, Alana's father
"I think it is fitting that this all came about. With the timing of Alana and Paul's wedding being cancelled and her father's illness, the wedding giveaway experience was perfect." — Sean Gray, groomsman
"They have had such a wonderful and inspirational relationship and their consideration and caring for each other is evident." — Steve Adrianse, Paul's father
"I will never forget today and dancing with Paul, my youngest son, on his wedding day." — Renee Adrianse, Paul's mother
"The wedding today is everything I dreamed for them and more. It was simply perfect." — Renee Adrianse, Paul's mother
"If their life is half as beautiful as this day was today, they are destined for an amazing life together." — Steve Adrianse, Paul's father