A stylish summer with a new pair of shades.
Trends: Eye Spy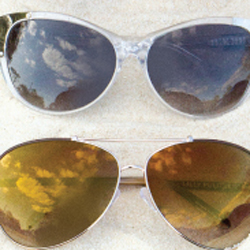 Scott Holstein

Kirsten Strickland wears Ray-Ban Jackie Ohh II sunglasses, available for $145 Cole Couture Boutique.
Short shorts and swimsuits shout "Summer is Here!" but the season's most versatile accessory is actually a necessity — sunglasses.
Shades provide a great opportunity to show off your style while saving your sight and helping you avoid sun damage. Go back to the future with classic aviators and Ray-Bans, or enjoy a bit of Hollywood glam with cat-eye shapes and oversized frames.
Other trends include touches of natural materials, such as leather and wood, or a pop of animal print or neon color. With a bevy of au courant styles and shapes, what shades will grace your face this summer? Share your favorite sunglass styles at facebook.com/tallahasseemag.
Shop the story
1. (On Kirsten, opposite page) Ray-Ban Jackie Ohh II, $145 Cole Couture Boutique
2. Alligator Nose Cartier Aviators, $1,900 The Hour Glass
3. Lilly Pulitzer Pink Brookes, $150 Pink Narcissus
4. Michael Kors Shetland Crystals, $140 The Hour Glass
5. Lilly Pulitzer Allie Aviators, $125 Pink Narcissus
6. Ray-Ban Tortoise Cat-Eyes, $140 Cole Couture Boutique